A plum deal for cancer drug synthesis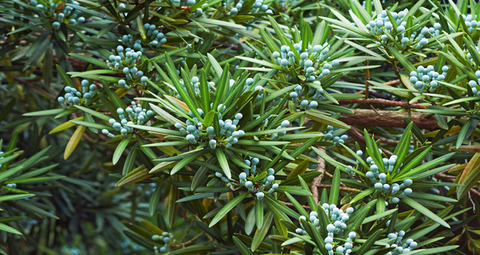 Chemical synthesis could be used to replace an ingredient in anti-leukaemia compounds derived from the Asian plum yew.
Chemists at Oregon State University patented a method of synthesising cephalotaxine to make homoharringtonine (HHT), which is used to treat chronic myeloid leukaemia.  
Until now, HHT had only been available by adding an ester to cephalotaxine, an alkaloid derived from the leaves of an Asian plum yew.   
Christopher Beaudry, co-author of the findings, said: "Trees don't grow very fast. And any kind of agricultural problem can affect production of the material.  
"By using chemical synthesis, we can start with commodity chemicals to prepare cephalotaxine, and we will further optimise the process to make it commercially viable." 
To trigger synthesis of the HHT from cephalotaxine, scientists used an oxidative ring-opening of a furan, a type of organic compound. This was achieved via a reaction known as a spontaneous transannular Mannich cyclization.  
"From start to finish - all nine steps from the chemical we buy - the yield is greater than 5 percent, which sounds terrible but is actually quite good," Beaudry said.  
"Typically the yield for any process would be much lower - think about how much tree mass is required to make HHT – and we think we can make further improvements as well." 
The experiments could pave the way for less expensive and more readily available leukaemia drugs that don't harvest natural sources.  
"There's also a chance this molecule can find application in blocking bacterial protein synthesis, which would be useful for treating antibiotic-resistant pathogens," Beaudry said.   
Chronic myeloid leukaemia is characterised by a chromosome abnormality that results in a protein overproduction, leading to the proliferation of the cancer cells.  
It's treated with drugs, such as Gleevec, that bind to a cancer-causing protein and inactivate it, until the cancer mutates and the drug doesn't work. HHT is then used to stop production of all proteins that leukaemia cells require. HHT also holds promise for thwarting chronic myeloid leukaemia stem cells.  
Oregon State's findings were published in Angewandte Chemie.