IET football tournament's out of this world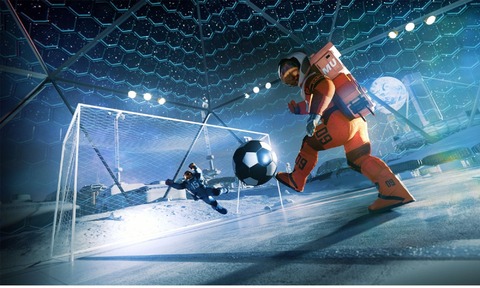 Moon Rovers 2: Lunar United 3. While it sounds like Fantasy Football, it could be one day as feasible as a Manchester derby or a Glasgow Old Firm match say scientists.
A panel from the Institution of Engineering and Technology (IET) is adapting the Beautiful Game to extra-terrestrial conditions and has even formulated the inaugural Lunar Football Rule Book with a timeframe of 2035.
The lunar version, they say, needs to accommodate a harsh and dusty terrain, zero oxygen, and most alarming, the potentially fatal risks of collision. Thus the game will be strictly non-contact with 50% larger football, play divided into four quarters rather than two halves, and a netted ground. And the offside rule will be discarded.
Given the unique lunar gravity, the ball's behaviour will change significantly. Kicked at the same speed as on Earth (approximately 70mph), it will travel roughly six times further, necessitating a return to the long-ball style of the 1980s. Players will require a flexible airtight suit with in-built padding, equipped with cooling and heating systems adjusted to the lunar climate.
To ensure safety and avoid collisions, Lunar Football will be played five-a-side, with possession gained solely through interceptions. Slide tackles and headers will be prohibited to prevent damage to players' suits and helmets. The ball will be 1.5x the size of a terrestrial football, with a core built for compressibility and bouncing without containing any air.
To prepare the field of play, says the IET panel, laser sintering will be used, ensuring an even and consistent pitch. The pitch will be 32 metres long and 25 metres wide, eight times smaller than a terrestrial football pitch, with four 10-minute quarters and 20-minute breaks between each quarter. The goals will expand to accommodate the larger ball, and the referee will be stationed at the basecamp, appearing as a hologram on the pitch.
The project, while tongue in cheek, is part of a serious effort to engage young people more in STEM sciences, explains Ama Frimpong, IET Young Woman Engineer of the Year.
She said: "Getting young people to think about how engineering and technology can be part of the things that they love is really important, and doing this from an early age is essential in showcasing the opportunities available and raising aspirations for careers in these sectors.
Looking ahead to that first lunar football match in 2035, the IET has initiated a competition for children aged 4-13 in the UK to design the official Moon Utd football kit as part of its Engineer a Better World initiative. The competition aims to inspire and excite children about engineering and technology, challenging outdated perceptions of the industry.
Futurist commentator Brian David Johnson, like Frimpong a competition judge, added: "With the upcoming 2025 Lunar mission set to make Moon colonisation one step closer, it's only a matter of time until we start to think about how we engineer aspects of our lives nowadays, such as hobbies and sports, for the Moon in the future.
To download the full Lunar Football Rule Book click here. To enter the competition or find out more information click here.