Global clinical research accreditation and certification mark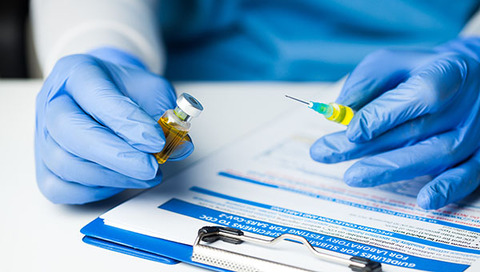 New evidence-based clinical research certification mark to set a global blenchmark for quality and consistency across operational standards and patient experience. Accreditation will facilitate the development and alignment of site capabilities and support the skill sets required to improve the patient journey, from recruitment to delivery.
GCSA launched today with a commitment to increase clinical research and trial capacity and quality in the UK as well as Globally. This will be achieved through the introduction of an industry leading standard for improving, maintaining and accrediting clinical research sites to improve sponsor and patient experience and increase clinical trials.
Following industry demand and as clinical research continues to be a global focus in the COVID-19 pandemic, GCSA awards a distinctive certification mark through an evidence-based approach. This clear, demonstrable benchmark ensures quality and consistency whilst also instilling confidence to advance the research offering and bring newer, better treatment options to market quicker.
Alignment of clinical research site capabilities
"As a global clinical research organisation, Parexel is focused on working with sites as a partner in the clinical development process," said Agnieszka Gackowska, Senior Director, Global Site Solutions. "To this end, the ability to pivot quickly in pandemic situations and conduct trials seamlessly in potentially unpredictable situations — implementing new approaches like decentralised clinical trials — is key. Accreditation through Global Clinical Site Accreditation (GCSA) will provide for further development and alignment of site capabilities with the skill sets required related to quick start-up and implementation of projects — including patient recruitment, patient delivery, and everything in-between — as we work together to bring new therapies to patients in need."
With no clear, established standards there remains a broad variance in the operations of clinical research sites across the industry. Sites need to be ready to meet the expectations of the industry and be able to demonstrate this to sponsors. GCSA sets this much-needed industry standard for research sites to strive for and achieve; allowing sites to evidence and communicate their capabilities and differentiate in a crowded and increasingly competitive marketplace. Beyond the assessment and accreditation process, where required GCSA will deliver individual, practical support on the areas for development to meet the standards and will work collaboratively with sites to achieve accreditation.
Globally recognised standard for clinical research
"The need for a globally recognised standard for clinical research sites is stronger than ever with the spotlight now clearly focused on the industry. The more efficiently and competently a research site operates the more high-quality research can be conducted. GCSA is a game-changer because it offers a practical solution to the industry-wide issues of consistency, safety and pace," explains Angela O'Connell, GCSA chief executive officer. "GCSA provides a clear, informed market-leading standard and supports sites in achieving this standard by providing a pathway to attainment. Most importantly, it facilitates better relationships between sites, patients and sponsors and develops industry collaboration through a network of clinical research stakeholders to ensure continued best practice sharing to deliver industry-leading sites."
A single vision to raise and maintain clinical research standards
GCSA is an assessment, improvement and accreditation organisation. A collaboration between Future Shaping Holdings Ltd, the parent company of IAOCR – The international accrediting organisation for clinical research – and Develop Consulting – experts in process improvement in the NHS. These organisations, together with a Global Advisory Board of stakeholders from across the industry, have a single vision of raising and maintaining the highest standards of clinical research sites.
The ambition behind establishing and driving these standards exists to improve the overall clinical research offering across all non- commercial and commercial organisations. GCSA further aims to create an integrated network of industry leading sites and sponsors; focused on consistently delivering high standards and aligning and introducing like-minded businesses.
For further information, visit: gcsaaccredited.org