Record number of Lab Awards for 2023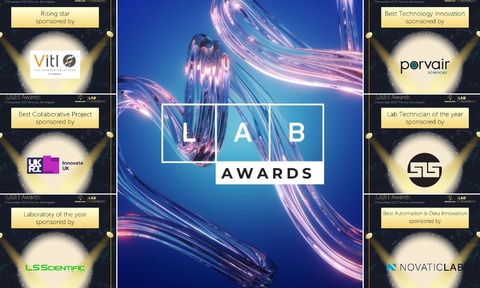 Industry leaders and emerging talent dominated the winners of this year's Lab Awards 2023, with the largest number of categories and shortlisted entrants to date.
At a ceremony staged at Birmingham's Vox venue, following the first day of the recent Lab Innovations NEC show and hosted by science advocate and presenter Maggie Philbin, achievements including innovation, sustainability and collaboration were among the many honoured.
In all there were 14 separate awards, 13 of which were chosen from shortlists by a panel chaired by Laboratory News publisher and MD of parent company Synthesis Media Sean Marshall. The Lab Awards are run jointly by Laboratory News and Lab Innovations.
Event director of Lab Innovation Simon Farnfield said the success of the awards in the few years it has operated, led to the decision to expand the previously day time ceremony into a separate evening event that reflected "the prestige of the awards in the industry".
Many of the best known-names in the lab world featured among the winners on the night with one – AstraZeneca – succeeding with a double, receiving both Smart Lab of the Year and Sustainable Lab of the Year.
The full list of winners at the 2023 Lab Awards is listed below, with any sponsors in brackets:
Laboratory of the Year (LS Scientific)
Geotechnics
Best Collaborative Project ( UKRI and Innovate UK)
Invizius in partnership with the NHS and EMS Healthcare
Best Technology Innovation (Porvair Sciences)
Beckman Coulter
Best Automation & Data Innovation (NoviaticLab)
Enbiosis AI-driven Microbiome Solutions
Best Consumables Innovation
Merah Medical Sentinal
Best Sustainable Product
Avantor VWR
Best Organisation Culture
Leybold
Sustainable Lab of the Year (Grenova)
AstraZeneca
Smart Lab of the Year (Labforward)
AstraZeneca AskLab Insights Project
Supplier Excellence (Johnsons Laboratory Logisitics)
Anthias Consulting
Smart Lab of the Year (Labforward)
AstraZeneca AskLab Insights Project
Lab Technician of the Year (Scientific Laboratory Supplies/SLS)
Laurie Lau, University of Southampton
Rising Star ( Vitl Life Science Solutions)
Emma Sanderson, SLS
Outstanding Achievement (Laboratory News)
Matthew Bramley, Trafalgar Scientific
Among the recipients on the night, was Ian Dorman, General Manager Leybold EMEA N&E, whose firm's win Best Company Culture. He commented: "The fact that we have received the award in this category in particular is a special recognition of our efforts in these areas and means a lot to the entire team."