Yellow brick road, smart glasses and virtual assistant join semi-finalist of multimillion Longitude dementia tech competition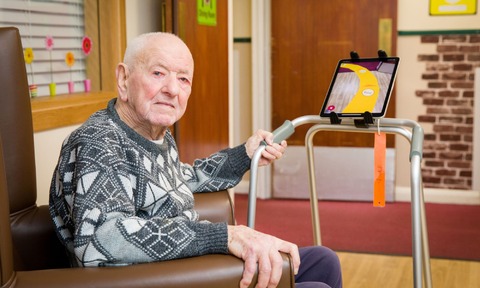 An augmented reality 'yellow brick road', smart glasses that recognise faces and a virtual speech assistant are among the 24 projects to make the semi final of the Longitude Prize on Dementia.
With a budget of £4 million and a winner's prize of £1 million, the award is one of the largest on offer for innovative projects to combat and alleviate the effects of the condition. It focuses on developing AI assistive technologies to enhance quality of life and independence of individuals by learning from their personal data.
It all boasts a lengthy and rigorous judging process; all semi-finalists receive grants of £80,000 each to develop their innovative ideas to prototype level over the course of 12 months. These prototypes will then undergo evaluation, before five finalists will be chosen in August 2024.
Each of these teams will receive £300,000 each to test their solutions with end users over a 15-month period at the end of which they will submit a detailed submission to the judges in November 2025. The overall winner will be announced in February 2026.
Second round competitors include the UK's Dorothy Community - Care City's Digital Yellow Brick Road that uses AR technology to provide virtual directions, visualised pathways and simple instructions enabling users to navigate their local community independently.
The UAE's Khalifa University entry, iMAGIC combines high-tech smart glasses equipped with facial recognition capabilities that also receive reminders and alerts, navigate through zoom features, make phone calls and monitor vital signs. The team also developing the product's ability to identify objects with QR codes.
A third entrant, the US Amicus Brain Innovations' interactive AI Software operates as a virtual speech assistant, using speech and language processing to understand and repair the 'broken speech' common in advanced stages of dementia, boosting users' effective communication.
Challenge Works, in partnership with the Alzheimer's Society and Innovate UK, organises the Innovation Prize. For more information on the Longitude Prize on Dementia, click here. For the Care City app, see video below.
Photo: Care home resident Ronald, a 93 year old non-sufferer from dementia, has assisted the creators of the Care City app in testing the product.