Lab Diary: Aurora provides lecture time enlightenment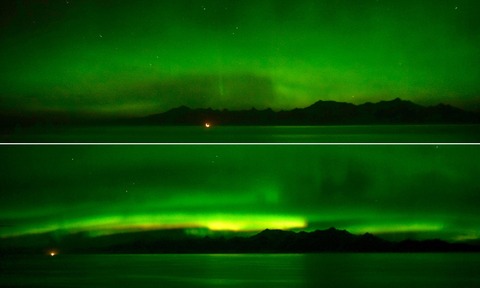 Recent days have offered a rare opportunity to view the Aurora Borealis or Northern Lights in the United Kingdom, with sightings observed even in South Wales and Southern East England.
Normally views are limited to within latitudes of 60 to 75 degrees, encompassing parts of northern Scandinavia, Iceland and Greenland, plus Canada.The sole part of the USA to routinely observe the Lights is its most northerly state, Alaska. Fortunately for Laboratory News, contributor Professor Brian J Ford was on hand to capture the display there.
Ford was, in fact, lecturing on a cruise ship off the coast on the subject of – the Aurora Borealis – which obligingly presented itself for the assembled audience.
"A PowerPoint presentation has nothing on the real thing," enthuses the Professor. "The northern lights are always breathtaking."
The two views above were taken while heading towards the Alaskan capital Juneau, he says, with the images taken with the camera lens at full aperture with an exposure of ¼ second, adding: "Without image intensification to optimise the result, the colours and contrast are too low."
Feature: Where there is darkness, let there be light...