How to get lab equipment 'field' ready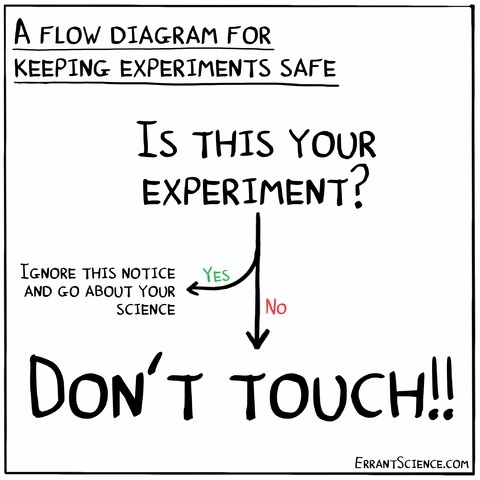 Having gathered evidence from at least two field researchers, Dr Matthew Partridge discusses the perils of science in the great outdoors and how to protect your precious lab kit from fuzzy fauna, foul weather, and film students…
Not many people know this, but all research can be easily categorised into two groups. Research in the lab and research not in the lab. Grouping all research into these two handy categories is important because they have vastly different requirements when it comes to the use of any equipment you'll need.
Labs are often semi-controlled spaces where you can be pretty sure the temperate will be somewhere inside of vague human comfort, the wind will be limited to whatever storm level the breeze made by a closing door is, and the chance of rain will depend only on how clumsy someone is when carrying beakers of solutions. Even if your lab equipment needs special conditions or handling, these are far easier to manage inside a nice cosy lab when you can mark out the floor, put up safety guards, or stick up sarcastic cartoons telling people to keep their grubby hands off. From a design perspective making labbased equipment is only a shiny case better than working on a prototype.
However, designing equipment to use outside the lab is the total opposite of that...
For starters, unless your outdoor lab is in the carpark, you then need to pack your kit so securely that even Amazon would blush at the size of the box relative to the size of the equipment.
Once the equipment is wherever it needs to be, you then need to deal with the first challenge of being outside; weather. To have any hope of preparing equipment for the weather you need to study the historic weather in the particular location your equipment will be used, then prepare as though you're about to experience the 'once in a generation' extreme of that weather. As this is exactly what you'll get the second you setup.
Surviving transport and natural weather is pretty difficult, but at least those problems have the benefit of being somewhat predictable. Unlike the threat of the local fauna Science owes a lot to little fuzzy rodents. There are plenty of outdoor experiments that have been set back years thanks to their 'help'.
To be fair to them, if you take a big box that gently hums with warm parts inside, you can hardly blame them for wanting to get inside and take a nap. Or, if you string a bunch of brightly coloured rubber coating wires around you can hardly blame critters for giving them an experimental nibble. Even when the critter in question is a bear and the rubber-coated thing is a researcher wearing waders trying to install sensors in a riverbed.
If you can survive all of that, then your equipment really is portable and ready for some outside research. I mean it will still have to contend with being run over by a combine harvester, shot because it looked funny, or stolen and used to film a 'personal' movie.
A list assembled from speaking to just two field researchers who were quick to point out that all the work to get equipment 'field' ready is worth it in the end. Not for the view or the fresh air. Not for the chance to travel. Not even for the extreme scientific challenge. It's worth it in the end, they said, because only outside the lab can you watch your data logger while enjoying an ice cream. There is a chance being outside too long has made them go a bit peculiar.
Dr Matthew Partridge is a researcher, cartoonist and writer who runs the outreach blog errantscience.com