Juice derivative hailed as first major advance in dialysis tech for decades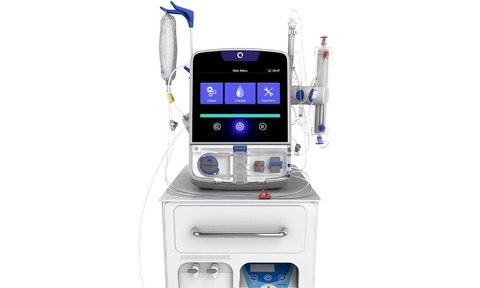 A disposable fluid cartridge system designed for orange juice and repurposed for dialysis is one of three entries shortlisted for the Royal Academy of Engineering's 2022 MacRobert Award.
Quanta Dialysis Technologies' Quanta's SC+ haemodialysis system for creating a compact and portable dialysis machine, has been hailed by the RAE as "the first major advance in dialysis technology in decades".
First developed to reconstitute orange juice from concentrate, it was repurposed to enable patients with renal failure to treat themselves at home, saving them hours at healthcare facilities and relieving pressure on the NHS.
Quanta donated its entire stock during the pandemic to the NHS to help relieve some of the pressure in hospitals and clinics, and has been adopted by several trusts.
The invention joins two other innovative shortlisted entries for the MacRobert Award, the UK's longest running award for UK engineering innovation.
These include Oxford Instruments' Symmetry detector which integrates with scanning electron microscopes to increase speed, sensitivity and resolution of analysis of a material's structure down to the nanoscale-level. Predominantly used in research laboratories, it has expanded across other sectors.
The final entrant is Intelligent Growth Solutions vertical farming technology crop 'towers' in an enclosed structure that controls light, temperature, humidity, irrigation, nutrition and air consumption.
The winning team will be announced at the Royal Academy of Engineering Awards Dinner on 12 July at The Londer hotel in Leicester Square, London and will receive a £50,000 prize.
Chair of the Royal Academy of Engineering MacRobert Award judging panel Professor Sir Richard Friend said: "Engineering has a key role to play in combating the greatest challenges of our time.
"The breadth of the 2022 MacRobert Award finalists shows exactly that, from innovative healthcare technology that has reduced the strain on the NHS, to vertical farming with zero water waste and a step-change in electron microscopy that is revolutionising research and innovation across a variety of sectors."