How to create a successful life sciences development
With fresh funding and growth in investment across the market, Jennifer Townsend looks at three key areas research and innovation hubs such as the Golden Triangle are focusing on to create ever more attractive spaces and supportive ecosystems to meet occupier demand
Image: The future vision for the Edinburgh BioQuarter
To keep up with the increased demand, developers and investors must look to create attractive spaces that occupiers desire and require
Globally renowned for research and innovation, many locations and cities across the UK, including the notable Golden Triangle of Oxford, Cambridge and London, are acknowledged as leaders in life sciences. It is no surprise, therefore, that this market is attracting substantial investment and development interest, as well as accelerated occupier demand. Equity investment into high-growth UK life sciences companies reached £982mn in Q1 2021, more than any other quarter on record and 25% more than was raised across the whole of H1 2020 according to Beauhurst. Additionally, recent increased government funding into life sciences and R&D based activities is fuelling the growth of the sector. Q1 2021 saw an additional 300 life sciences companies incorporated in the UK, whilst a number of existing companies announced expansion plans off the back of fresh funding. So, to keep up with the increased demand, developers and investors must look to create attractive spaces that occupiers desire and require.
A successful life sciences development requires the creation and curation of a supportive ecosystem that brings the right collaborative partners together and offers support services and specialist facilities, but what else? Technical requirements will vary; there are some common attributes present in the most successful developments across the UK:
1. Sustainable, healthy, and connected
Building design and management is becoming increasingly focused on sustainability and promoting health, wellbeing, and productivity. Investments are being made in the public realm to connect with the local community.
A prime example of this is The Spine Building at the Liverpool Knowledge Quarter. BREEAM Excellent rated, it has been designed according to the scientific and medical research principles established in the international WELL Standard to achieve WELL Platinum status. Additionally, the new five-storey laboratory and office building 1000 Discovery Drive in Cambridge plans to host a public café and public workspaces for the local community, along with office and lab space intended to be multi-let to encourage a creative and collaborative working environment.
Connectivity is key in three areas – physically in terms of accessibility of the location, technical in terms of power and data and intellectually to talent both research and training institutions and funding organisations.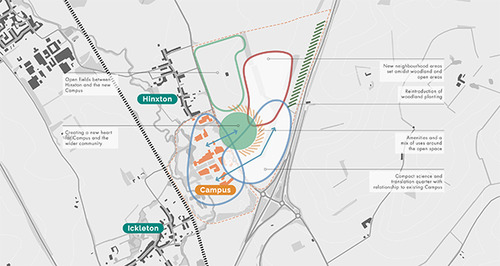 Image: A concept map for the future Wellcome Genome Campus in Hixton
2. Technology-led
There has been a major shift in the sector recently with the growing influence of technology, particularly AI and data. Our recent UK Life Sciences Sector report showed that 90% of large biopharma companies have initiated AI projects in the past year and almost 100 partnerships have been struck between AI specialists and large biopharma companies for drug discovery since 2015. NVIDIA, for example, is partnering with AstraZeneca on a transformer-based generative AI model for chemical structures used in drug discovery that will be among the very first projects to run on Cambridge-1, the UK's largest supercomputer. In response, SciTech clusters are emerging. The planned Birmingham Health Innovation Campus will provide cutting-edge innovation facilities building on healthcare data, genomics medicine and diagnostics, medical technologies, and clinical trials.
Similarly, new life sciences developments are looking to enhance their occupier experience with technology-led innovations. The 2040 vision for Milton Park in Oxfordshire plans to harness real-time data to track how business are interacting with the park and Enterprise Wharf at the Innovation Birmingham campus, will be the city's first smart-enabled building, with sensors monitoring data from the building management system, HVAC, lighting, and CCTV, to improve both the building performance and user experience.
3. Flexible and adaptable
Life sciences companies need spaces for every stage of their growth journey, as well as lab spaces that can easily flex to changing scientific and tech requirements. To attract and retain occupiers, developments must include a significant level of flexibility within the available spaces.
The proposed scheme at The British Library site will deliver adaptable office space that can accommodate different sizes of business as well as a range of uses including both wet and dry laboratories. Additionally, Parmer Cardiff, already home to the Welsh Government's Life Science Hub and a cluster of industry bodies including the British Medical Association, offers a range of flexible space across six buildings with infrastructure in place to accommodate life sciences companies moving up from incubator space.
4. Amenity rich and liveable
The increased focus on service-led, amenity rich and experiential workplaces is rising up the agenda for the life sciences sector. More and more new developments are centred on becoming places where people want to come to live as well as work.
The future vision for the Edinburgh BioQuarter centres on the creation of a vibrant mixed-use neighbourhood for the city, with more leisure and retail offerings, a gym, and a hotel. This will complement the existing ecosystem which includes proximity to the University of Edinburgh Medical School and Royal Infirmary of Edinburgh. Equally, the Wellcome Genome Campus at Hinxton includes plans for up to 1,500 homes for campus-linked workers with a range of affordability.
There is no question that the life sciences sector is evolving and developing at rapid pace.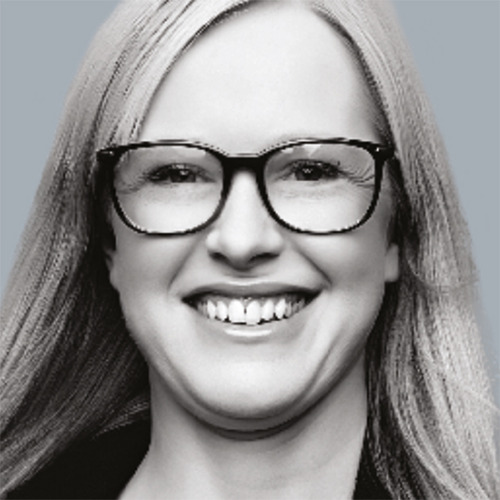 Author: Jennifer Townsend is Partner, Commercial Research at Knight Frank knightfrank.co.uk