Make 'em laugh, make 'em think…
The Ig Nobel awards ceremony is a highlight of the scientific calendar with its celebration of unconventional and irreverent research results. Jonathan Chadwick spoke to its founder and master of ceremonies, Marc Abrahams, to look back on nearly 30 years of results that make people both laugh and think…
For Marc Abrahams, the unusual, improbable and amusing have been a lifelong fascination. Speaking from his home in Boston, he tells me that everything he's doing as an adult, whether as editor of a satirical science magazine or organiser of the annual Ig Nobel awards, are based on interests he's had since childhood.
"A lot of things that seem to have sharp boundaries and are sharply divided into categories for other people don't seem so sharply divided to me," he says.
At its core the Ig Nobel awards is a night of genuine appreciation for real research outcomes, which, although funny, are never simply just a joke
"I've been lucky enough to be able to find ways to do all the things that I most like doing as a little kid as an adult. I can tell you things I like doing but I would really have a tough time putting a label on anything, or on me."
As an elementary school student, Abrahams' favourite teacher would play the class records by American musician and mathematician Tom Lehrer – in particular, Lehrer's recitation of the chemical elements to the music of Gilbert and Sullivan played a part in developing his taste for the funny side of science.
Abrahams went on to study applied maths at Harvard and later started a software company. In 1990, he sent some articles to a magazine he'd never even looked at, called the Journal of Irreproducible Results. The response he received from the publishers was to offer him the chance to be its editor – a position he held for around three years.
After the paper hit financial difficulties, Abrahams left to establish Annals of Improbable Research (AIR) in 1994, which has been running ever since. AIR is a bimonthly collection of news, illustrations and satirical ads focused on real, but unlikely, research. While often sounding farfetched or implausible, all research covered in AIR is real – whether good or bad, important or trivial, valuable or worthless. It's also a companion to the Ig Nobel awards, held in September each year.
"Most prizes are for the very best of something – Olympic prizes for the best athletic performance, or the prize for worst dressed or worst movie," Abrahams says. "For this prize, good and bad are really irrelevant."
Ig Nobels
The Ig Nobel awards, which honour achievements that make people laugh and then make them think, have run every year since 1991.
The ceremony is a delightful 90-minute show held at Harvard's Sanders Theatre. A spoof of the Nobel Prize, part of the charm of the Ig Nobel awards is the genuinely low-budget amateur-stage-production feel. Contrasting slightly with the medal, diploma and 9 million Swedish Krona given to Nobel Prize winners, Ig Nobel winners are given a certificate, a homemade trophy and a defunct $10 trillion Zimbabwean dollar note.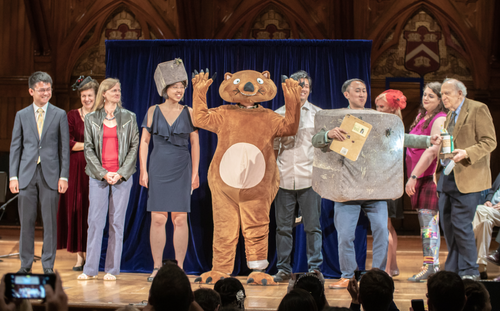 Patricia Yang, Alexander Lee, Miles Chan, Alynn Martin, Ashley Edwards, Scott Carver and David Hu took this year's Ig Nobel Physics prize for their research paper, entitled How Do Wombats Make Cubed Poo?
(Credit: Alexey Eliseev)
One of the most notorious features of the awards ceremony is the appearance of an eight-year-old girl, Miss Sweetie Poo, to shout "Please stop, I'm bored" at an award-winner if their acceptance speech lasts longer than a minute. It's a funny touch, but also, as Abrahams explains, "a really important piece of engineering".
"The first year we had that, the whole show was an hour shorter than the year before. That's 21 years ago and ever since then we have always finished just about on time.
"If you look at the sheer number of things we're packing into that 90 minutes, done under any normal circumstance it would take two or three times that length but we always manage."
All the humorous touches are in the sprit of a fun evening, yet at its core the Ig Nobel awards is a night of genuine appreciation for real research outcomes, which, although funny, are never simply just a joke.
Nobel Laureates from around the world are invited to the Ig Nobel awards and often present the trophies. Thus, the ceremony is a chance for Nobel Prize winners to have an evening off from any obligations they may have as a serious researcher – for example, by wearing a freshly-removed bra as a gas mask, as in 2009.
It also begs the question: Why do we have to wait until September each year to see the cream of the world's science industry act just plain silly? Abrahams agrees that science takes itself too seriously, especially in the US.
"Individuals within a company may or may not take things overly seriously but when they're acting in their official role they feel they ought to act as if everything is very serious – and very serious means you should not laugh at it.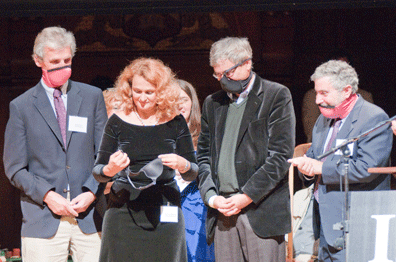 2009 Public Health prize winner Dr. Elena Bodnar demonstrates her brassiere face masks, assisted by Nobel laureates Wolfgang Ketterle (left),?Orhan Pamuk and Paul Krugman (right).
(Credit: Alexey Eliseev)
"In science journals produced in the US, everything is written in a very straightforward way – there's not much humanity that's woven into the writing, usually."
British research papers, on the other hand, such as Nature, haven't been afraid to keep a bit of humour in the prose from their earliest days.
"The Watson and Crick DNA paper, which is maybe the most famous single scientific paper published in the 20th century, ends with a joke. It's something like 'It has not escaped our attention that this has uses'. If they'd been publishing in an American journal that would have been removed."
While unusual research seems to be celebrated the world over, it's no coincidence that the UK is one of two countries that seems to be particularly good at producing Ig Nobel prize winners. The other? Japan.
"If you're a person who is really eccentric and you are continually doing lots of eccentric, really unusual things, in most of the world that's going to get you in trouble. It might get you thrown in jail, it might get you killed.
"In the UK and Japan, if you come up with really eccentric ideas and you act on them, people may or may not like you personally but they're generally really proud."
Improbable research
Each year, there are around 9,000 nominations for an Ig Nobel award. Somewhere between 10-20% of which are from people who nominate themselves, Abrahams estimates, but they almost never win. A true improbable researcher does not begin their research project with the aim of winning an Ig Nobel award. Typically, winners are originally oblivious to the comic value of their work.
"If you set out to do something that both makes people laugh and makes them think, that's really tough," Abrahams says. "It's quite common that it's only when we get in touch with them and offer them this prize that they realise what they've done looks funny to most people in the world."
Nominees don't necessarily have to be scientists or even professional researchers. It doesn't matter who you are; it's what you've done, he says.
Winners are awarded under 10 categories, which can change year by year. Because of the rich variety of Ig Nobel-worthy and often indefinable research areas, Abrahams and his team of judges usually decide the categories last. A good example of this is 1998 award winner and inventor Troy Hurtubise from Canada who built and personally tested a suit of armour that he hoped would protect him against grizzly bears.
"What category do you put that in? We argued for months trying to come up with a category and we finally called that 'safety engineering'."
Out of the nearly 300 Ig Nobel award winners, here is our top five
Economics, 2015: The Bangkok Metropolitan Police, for offering to pay policemen extra cash if the policemen refuse to take bribes.
Veterinary Medicine, 2009: Catherine Douglas and Peter Rowlinson, for showing that cows who have names give more milk than cows that are nameless.
Chemistry, 1995: Bijan Pakzad, for creating DNA Cologne and DNA perfume, neither of which contain deoxyribonucleic acid, but both of which come in a triple helix bottle.
Biology/Astronomy, 2013: Marie Dacke, Emily Baird, Marcus Byrne, Clarke Scholtz and Eric J. Warrant, for discovering that when dung beetles get lost, they can navigate their way home by looking at the Milky Way.
Technology, 2001: Awarded jointly to John Keogh of Hawthorn, Victoria, Australia, for patenting the wheel in the year 2001, and to the Australian Patent Office for granting him Innovation Patent #2001100012. (The patent office later quietly revoked Mr. Keogh's patent.)
At this year's ceremony in September, prizes were awarded for research on cube-shaped wombat poo; volume of saliva produced daily by children; pizza's ability to protect against disease; and scrotal temperature in naked and clothed postmen in France.
The winners joined a long and distinguished list of Ig Nobel champions over nearly 30 years. Abrahams fondly recalls one in particular. In 2003, the biology prize went to Kees Moeliker, a Dutch biologist and director of the Natural History Museum in Rotterdam.
"He had noticed something unusual about some birds and after several years of his fellow scientists telling him you need to publish a paper about this he finally did. Somebody sent us a copy and we gave it a prize."
Moeliker's research paper is the first scientifically reported case of homosexual necrophilia in the Mallard duck. And "everything about it is wonderful", Abrahams says.
"Reading his paper it's clear there are only two possibilities. One is whoever wrote this – and it's a beautiful piece of writing, it's hilarious and it tells you a lot – is truly insane or this person is one of the subtlest and most deadpan writers who has ever lived. And after half a minute it was very clear what the answer was."
Professor Moeliker is now "European Bureau Chief" of AIR and a close friend of Abrahams. Since becoming an Ig Nobel champion, he has given a TED talk, entitled, "How a dead duck changed my life".
Future
Next year will mark the 30th Ig Nobel awards ceremony. Along with editing AIR and speaking at global events, improbable research has for a while now been a full-time career for Abrahams. He is truly the king of improbable research. But will he one day pass down the improbable crown to a new master of ceremonies? Will improbable research outlive us all?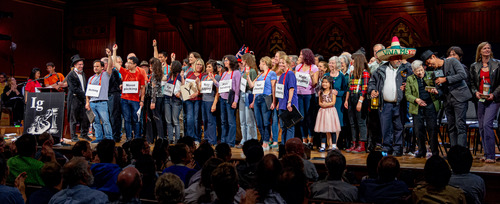 The 2019 Ig Nobel awards ceremony at Sanders Theatre, Harvard University. (Credit: Howard Cannon)
"I hope 100 years from now it's still going and it's even better known and I also hope that it's become something different as well as staying very much what it is now. I would hate to see it ever become predictable.
"We know there's a lot of stuff out there and I don't think we're ever going to run out of
surprise and the world's not going to run out of surprising things to show us."
For now, he will cap the decade with a typically improbable Christmas, at least from a puritanical British point of view.
"What we usually do on Christmas is get a bunch of friends together, go see a movie and eat takeout Chinese food."
Marc Abrahams will be travelling Europe next spring for the Ig Nobel Euro Tour, which includes dates at Manchester University and Imperial College London, with more to be announced.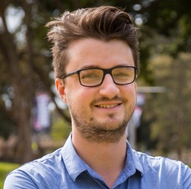 Author: Jonathan Chadwick is Assistant Editor of Laboratory News