The great lab writing challenge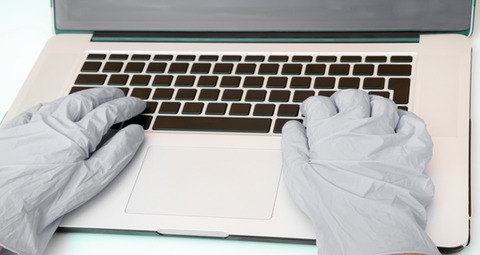 When the lab manager points your way and asks for some technical writing it can be daunting, but fear-not says Russ Swan… with the right attitude it can also be a ticket to professional recognition and improved prospects. Here is his guide to writing your way to success in the lab.
My grandfather used to tell me that as one door closes, another one opens.
Nowhere is this more true than with technical writing tasks. It doesn't seem to matter if it is an undergraduate essay, a post-doctoral thesis, or a technical note on a new laboratory procedure, when you have to write it, you have to do so in a certain way.
And that way is, on the whole, dull. Keep it dry, keep it bland, and keep your job. Leave any sense of style at the door, and don't even think about cracking a joke. This is how we are taught to communicate, and so that is how we in turn expect our communications to be.
It can be a soul-destroying situation, but with the right attitude it can also be a ticket to professional recognition and improved prospects. Here then, is a little advice on maintaining sanity when facing the laboratory writing challenge.
Looking good
The most important thing is to remember who you are writing for. Say your lab has a new piece of kit, or a novel technique, and you are asked to provide a guidance note of some kind. The boss wants to be sure that this expensive equipment is used properly and efficiently, and for some reason you are the person who knows it best.
Remember, the task is not to help people use the thing, but to make yourself look clever
You might be forgiven for thinking that your audience is your colleagues, present and future, but that would be quite wrong. You are writing it for your line manager. It's not because they don't understand the technology (they don't, but that's not the point), it's because that's who will be doing your annual appraisal.
Make it look like the thing is really complicated, takes a genius to master, and aren't they lucky you're the one in charge of it, and your next salary increment is in your back pocket.
Take inspiration from every item of consumer electronics you've ever bought, and adapt it to the task. You know the sort of thing:
Congratulations on your selection of the XYZ MegaPlus Omnidirectional Laboratory Implement. We hope you will have many years of satisfactory engagement with our product.
Then proceed with statutory warnings about inserting fingers in the electrical connections, poking eyes with pointy bits, or licking any component at any time.
Continue with references to health and safety policy, waste policy, holiday entitlement, and staff discounts at local retail emporia, and don't skimp on the acronyms and abbreviations. Your task is not to impart any actual helpful information, but rather to make them glaze over and turn the page.
Now you have the chance to go full-on incomprehensible nonsense. Remember, the task is not to help people use the thing, but to make yourself look clever. A favourite trick here is to skip over the early operations and leap straight in to the complicated bits.
Some find this difficult. Most of us are reasonably rational, and as a scientist you perhaps take pride in having higher than average levels of logic. The linear progression from step to step is hard to break, but fear not. Simply write normally, in a helpful linear manner, and then delete the first three or four paragraphs.
Advanced users will find that deleting the first few words of every second or third sentence also adds to the air of mystery.
Use long words where short ones would do, and make a point of assuming substantial previous knowledge on the part of the user. With these tips in mind, your task will not only be easy but also, with any luck, rewarding.
One final tip: where possible, return to an opening observation right at the end of the discussion, because this makes it look like you knew what you were doing all along. Just like my grandfather: great bloke, terrible carpenter.
Russ Swan