Do we over promise when we popularise science?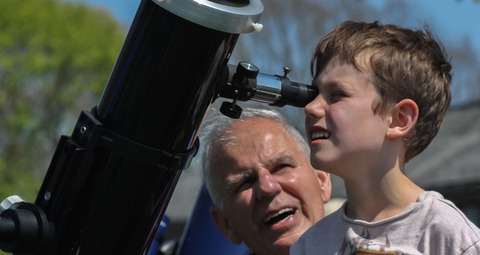 Despite social media and blockbuster TV shows ramping up scientific curiosity in the masses, we still have to be careful of over-promising and under-delivering says Russ Swan
I think most of us involved in science are keen to encourage an interest among non-scientists, and especially among youngsters. It seems important for society that there is better appreciation of what happens in labs and in the field, and it's good to share the joy of knowing a little about the universe around us.
I'd go so far as to say that those who don't agree are either cloistered or cynical (both things that are quite easy to be these days). The cloistered want to protect their silo, perhaps worried that if everybody understands the magic then it just won't be magic anymore. The cynical reckon there's not much future in it, because the robots will be doing all of our jobs in ten years anyway, so what's the point? I've met and worked with both in the past, occasionally even in the same individual.
But this is the New Year, so let's try to be positive. Let's try to encourage at least a little bit of wonder and appreciation.
For most of the target audience, peering down a microscope or shaking a test tube just doesn't cut it. They want their science in neatly packaged thought-free chunks, preferably delivered by social media or television, and they don't want to work too hard to get it.
People get interested, put their coats on, and go outside expecting some spectacular of nature. Most see little or nothing, return disappointed, and go back to discussing celebrity trivia
There are notable exceptions. Late last year that most venerable of science communicators, David Attenborough, fronted the latest spectacular wildlife documentary series. Blue Planet II showed that there is still a lot to celebrate about our world, and that great story telling can still mobilise interest in some of the pressing issues of the day.
Who of the 14 million watching could not be moved by the stark evidence of warming oceans, sea level rise, and the disgusting problem of discarded plastic? There are more good arguments in favour of environmental protection in these few hours of TV than all the well-meaning sign-this-bogus-petition guff on social media put together.
Star gazing Turning our gaze upwards from the oceans to the heavens, you may have noticed an interesting trend on social media. Celestial events such as (so-called) supermoons and meteor showers now make regular appearances in news feeds. This has to be a good thing, right?
The Orionids, Perseids, Leonids, and the rest used to be known about by nerds like us and not many others. Recently their appearances have been dragged out of the silo and shared widely on social media.
The problem is that they are often, if you'll excuse the expression, bigged-up. People get interested, put their coats on, and go outside expecting some spectacular of nature to rival the breaching whales and psychedelic nudibranchs. Most see little or nothing, return disappointed, and go back to discussing celebrity trivia.
These are examples of over-promising and under-delivering. It's something we do too much of, and it does us no favours.
Oops, we did it again It looks like we're about to do it again. One of the well-meaning events designed to enthuse the youth of our time is the Big Bang UK Young Scientists & Engineers Fair, at the NEC in March. The organisers commissioned a survey which produced the apparently shocking but entirely predictable finding that most youngsters don't much about constellations. Many never look at the night sky and couldn't tell their Ursa from their elbow.
Obviously what is needed is a bunch of new constellations, more relevant to the current generation. Asterisms of, say, Harry Potter or Usain Bolt. Even David Attenborough. That'll get them motivated.
This is exactly what EngineeringUK, organiser of the fair, has done. Eight new constellations that are at once meaningless and unspottable. "Let's all go outside and see if we can see the Tim Peake spacecraft constellation, or the Serena Williams tennis racket" said nobody to anybody, ever.
What is more startling is that this fixes a problem that doesn't exist. The survey used to justify this risible attempt to rewrite the night sky found that 29% of 7-19 year olds couldn't recognise a single official constellation. That means that 71% could!
I don't know about you, but I'm inclined to say hands off our classical cosmic mythology. It's far better to have 71% able to identify at least one old constellation, than 100% unable to identify a single new one.