A corvidian call to arms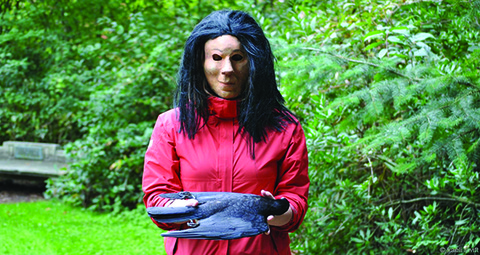 There is little point in crafting a natty introduction to this piece. We have, surely, already lost your attention to the truly horrific image on this page.
And we can't blame you – it's the kind of image that impacts the psyche like a bullet impacts the flesh. Whilst it will do some damage on the way in, it's the exit wound you really worry about. There will be a measure of disquiet as you process the image, but it is the vividness with which it will burst out of the cortical and sub-cortical circuits making up memory that will really smart.
So, to which master of the macabre must we attribute this work of petrifying efficiency? Hitchcock? King? Edgar Allen Poe? Err, no. Actually we can attribute it to a team of zoologists from the University of Washington. With it, they must have taken the single most chilling image ever associated with a scientific study. And indeed it is a scientific study – one that concerns the behaviour of crows.
Fitting really; omens, superstition and symbolism concerning death and horror cling to the crow like luck clings to a rabbit's foot. Perhaps one of the reasons for this is that crows are known to behave in a rather unusual way around dead members of their own species. They have been observed to gather round their dead and squawk loudly. Can there be a more eerily evocative sight on a misty overcast winter morning than a murder of crows gathering around a dead member of the flock?
Even more strangely, it is a mystery as to why they do this. The temptation to anthropomorphise here is almost more than our self-centred ape brains can handle, but we would be well advised to resist – this isn't mawkish; this is the hard pragmatism of evolution. Something Professor John Marzluff and his graduate student Kaeli Swift (the afore mentioned masters of the macabre) wanted to explore further. Previous work has suggested that crows might become agitated and noisy around their dead in order to warn others of the danger of that place, or animal…or indeed person.
It turns out crows never forget a face – including a human face
And here we begin to stumble on the origins of this horrific picture. It turns out crows never forget a face – including a human face. So, when handling dead crows during experiments to study the flock's reactions, the researchers donned 'realistic' latex masks so that their actual face wouldn't be recognised in the future. Why this would prove to be such a threat is surprising; it also turns out that crows can teach others in the community that this face is dangerous (…it must be, it was near a dead crow). They have the visual acuity to actually recognise the facial features of a human, and the cognitive acuity to essentially communicate to other crows that the owner of this face could be dangerous.
And they don't stop at simply passing on a warning… oh no, it is also a call to arms. The researchers point out in a paper published back in 2015 in Proceedings B of the Royal Society that as the knowledgeable juveniles mature and fully develop their calls, they expect them to attract others to mob the dangerous mask.
And so it seems this most horrifying of images is actually a defence against the rather brilliant yet violent tendencies of crows. The researchers wear them to protect their actual faces from being added to some kind of avian mob hit list. And that is a protocol you really won't find in the average laboratory health and safety manual.