Melting ice sheets pump out methane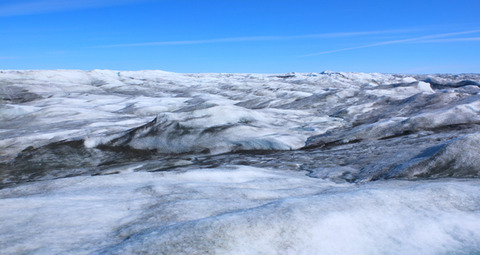 The emission of tons of methane from the Greenland Ice Sheet is evidence of a widespread subglacial microbial system, according to an international research team.
Using novel sensors, researchers led by the University of Bristol sampled the meltwater running from a catchment of the Ice Sheet measuring more than 600km2, during the summer months.
At least six tons of methane was transported to their measuring site from this portion of the Ice Sheet alone, roughly equivalent to methane released by up to 100 cows.
Professor Jemma Wadham, director of Bristol's Cabot Institute for the Environment and leader of the investigation, said: "A key finding is that much of the methane produced between the ice likely escapes the Greenland Ice Sheet in large, fast flowing rivers before it can be oxidised to CO2, a typical fate for methane gas which normally reduces its greenhouse warming potency."
The study shows that ice sheet beds, which hold large reserves of carbon, water, microorganisms and very little oxygen, are also atmospheric methane sources. The team said they've discovered the extent of methane-producing microbes in subglacial environments.
Lead author Guillaume Lamarche-Gagnon from Bristol's School of Geographical Sciences, said: "Now we clearly see that active microorganisms, living under kilometres of ice, are not only surviving, but likely impacting other parts of the Earth system. This subglacial methane is essentially a biomarker for life in these isolated habitats."
Methane had been detected previously in Greenland ice cores and in an Antarctic Subglacial Lake, but this research marks the first time that spring and summer meltwaters in large ice sheet catchments have been found to continuously flush out methane. Lamarche-Gagnon indicated that they now plan to prove theories on methane magnitude in the Antarctic.
The team's findings were reported in Nature.