Sulphur polymers for eco-friendly plastics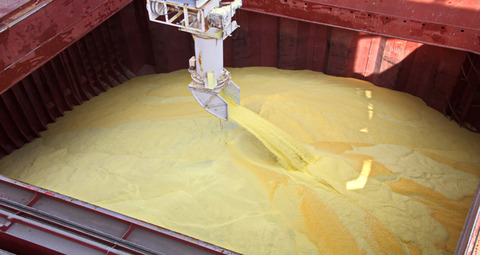 A new catalytic process for making polymers out of sulphur could provide more environmentally friendly production of plastic.
Currently, the process of reacting sulphur with organic crosslinker molecules to make it stable – known as inverse vulcanisation – involves long reaction times and high temperatures and results in harmful by-products.
Researchers at the University of Liverpool found that the addition of a small amount of zinc diethyldithiocarbamate to the process reduces temperatures and reaction times. It also increases reaction yields, improves physical properties of the polymers and prevents production of harmful by-products.
Dr Tom Hasell, whose group conducted the research, said: "It makes inverse vulcanisation more widely applicable, efficient, eco-friendly and productive than the previous routes, not only broadening the fundamental chemistry itself, but also opening the door for the industrialisation and broad application of these fascinating new materials in many areas of chemical and material science."
Sulphur is removed from crude oil and natural gas when they are refined for use, such as in the petrochemicals industry. However, far more sulphur is produced in this way – around 70 million tonnes a year – than we actually use, resulting in in huge stockpiles.
Meanwhile, 350 million tonnes of plastic are produced annually, and to develop more sustainable polymers in the face of the plastic crisis, sulphur could hold the answer.
"To be able to produce useful plastic materials from sulphur, a by-product of petroleum, could reduce society's reliance on polymers made from petroleum itself," Hasell said.
"In addition, these sulphur polymers may be easier to recycle, which opens up exciting possibilities for reducing current use of plastics."
Hasell told Laboratory News that making plastics out of sulphur rather than the commonly used carbon have very different properties, resulting in wider applications.
"Currently almost all plastics are carbon based and made from the limited petrochemical recourses themselves. While carbon polymers block infrared light, sulphur polymers are transparent to infrared light – and so can be used to make thermal imaging lenses," he said.
Sulphur polymers could also be used in batteries and water purification.
The researchers' paper, Catlytic inverse vulcanisation, has been published in Nature Communications.