NASA detects likely marsquake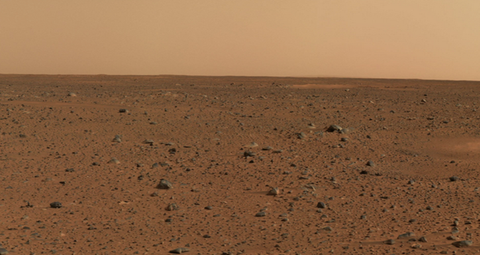 Seismic activity has been detected on a planet other than Earth for the first time.
NASA's InSight space lander detected faint activity from the interior of Mars on April 6, its 128th Martian day on the surface of the red planet. The recording of the "marsquake" is preceded by faint Martian wind and followed by the noise of the spacecraft's robotic arm.
Lori Glaze, Planetary Science Division director at NASA Headquarters, said: "The Martian Sol 128 event is exciting because its size and longer duration fit the profile of moonquakes detected on the lunar surface during the Apollo missions."
NASA has said the sounds were created from ground vibrations measured from the craft's seismometer. Scientists are now examining the data to determine the cause.
InSight landed on the surface of the red planet last November and is studying the deep interior of Mars to learn how celestial bodies with rocky surfaces formed, including those on Earth and the Moon.
Although Mars does not have tectonic plates, a continual process of cooling and contraction creates stress. This stress builds over time, until it is strong enough to break its crust, causing a quake.