We are feelin' blue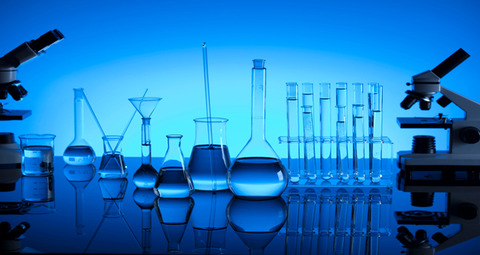 Just what is it about the colour blue and science?
Red, blue or green!?
If we were to bellow that into, for example, your face - we hope you would, rather than calling the police, innately understand the point we were making.
After you had recovered and wiped the spittle from your brow, you'd no-doubt clock that we were asking for a preference. And without much more explanation you'd probably go further and understand we were asking for, in this case, the political preferences that these colours represented.
Pointless exercises are our stock-in-trade. With that, we'd like to posit the following: Science is blue. 
That's because colour is deeply important to our brains… skewed as they are to visual inputs. Indeed, the psychology of colour is a well-studied field because it has such an impact on our behaviour. As such ideas and endeavours can be closely associated with colours.
So we got thinking, just what colour can be classed as representative of science? And to those of you who say: "What an utterly pointless exercise", we would remind you that we are the Science Lite? desk – pointless exercises are our stock-in-trade. With that, we'd like to posit the following: Science is blue.
Let us explain – science seems to be synonymous with the colour blue. Take for example this very magazine – for the majority of the time since we became a full colour publication,?the Laboratory News? masthead has been blue (we have since become a lot more colour diverse… just to spice it up, you understand). And it's not just the furniture of the magazine – have a glance through our pages and you'll notice that the majority of the adverts are also rooted in blue.
And we're not the only ones – Lab Innovations (the excellent lab show we partner with) the European Space Agency, NASA, and many other scientific companies and institutions – what is it about blue that makes it so synonymous with science?
In short – we don't know. But we do know this – blue has a rather distinguished and eventful history.
Got the blues
Blue light resides at 450-495nm in the electromagnetic spectrum meaning it has a relatively short wavelength and is scattered easily by oxygen and nitrogen molecules in the atmosphere. This causes more blue light to reach our eyes – hence the sky is blue. The sea is blue for the same reason – water molecules absorb more light in the red region of the spectrum, and scatters the blue, meaning the sea looks that lovely dreamy blue.
Naturally then, when it came time to design the uniforms of the Navy and Air Force, blue was the obvious choice. But getting them that colour wasn't always easy – blue dyes and pigments were once notoriously difficult to make. Traditionally, blue pigments were made by crushing minerals like lapis lazui and azurite – Cu3(CO2)3(OH)2?– and mixing them with a binding agent, while natural dyes like woad and true indigo were used to colour cloth.
As with many things, the Egyptians had this blue problem nailed and made the first synthetic blue around 2500 BC using it to dye cloths to wrap mummies – believing it would protect the dead against evil. They mixed sand, copper and natron (a kind of soda ash) before heating to produce a blue dye, which they used to colour cloth. Alas, the exact formula has since been lost.
But over the years, blue lost its association with nobility and became the colour of the poor who had low quality clothes coloured with woad, a plant common in Europe. By the 1220s, blue bounced back and become popular again as French King Louis IX took to dressing in the colour, but it wasn't until the 1500s when true indigo began to be exported from India that the rich dark blues we see today became popular.
Quite a journey then – blue has risen and fallen from grace and now it seems to have enveloped science. Just take a look around your lab: how often do you see blue in company logos, on the mastheads of magazines, and on the equipment?
It'll be, we suggest, the most prevalent colour in your lab… and with such a history, we are all for that.