Bath puts safer water on the map via new OASIS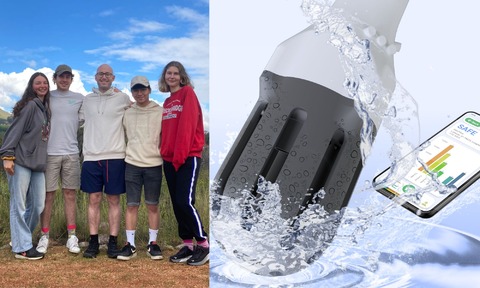 A portable water quality monitor developed by University of Bath students aims to enable rapid detection and mapping of safe water sources for communities across the globe.
Team Bath Biodevices without Borders created the On-site Aquatic Safety Inspection System (OASIS), combining water diagnostic and GPS technology to enable speedy quality analysis and plot the results on the map.
A series of small electrochemical sensors detect contaminants such as chlorides, fluorides, and nitrates, as well determining pH level, temperature and turbidity. The sensors are activated by dipping into streams and other water sources. Results are then displayed and can be uploaded and shared online via a connected smartphone.
Recruiting students of all years and staff, the project also used Bath's longstanding links with South Africa's Stellenbosch university to field test the instrument and to integrate its use into local communities to enable safe water consumption and monitoring.
Team Leader Alexz Farrall says the project aims to inform and give opportunities to those who may be unaware of contaminated water sources, while enabling students to build practical skills that can benefit global communities. He adds: "We are creating an innovative and genuinely useable device that, with some further development, could really make an impact on water safety and water scarcity.
"OASIS uses affordable sensors to enable rapid detection of several chemical markers, doing analysis that would otherwise take hours in a lab. When you submerge the device in water, it can instantly give feedback on how clean and drinkable a water source is. Combined with GPS technology, it can empower users to be aware of how harmful or safe a water source is and share it with their community.
"This could work in areas where water is scarce, potentially contaminated, or where agricultural work can cause quite rapid changes to water quality. It can provide a form of immediate detection of risks, or for situations such as a cholera outbreak."
Using cheap but reliable sensors and keeping the project open-source, the scientists aim to collborate with NGOs to scale up production and and availability.
The team's academic director, Dr Despina Moschou, Senior Lecturer in Bath's Department of Electronic & Electrical Engineering and a member of the CBio Centre for Bioengineering & Biomedical Technologies, said: "The device is sophisticated and addresses a major global problem in a simple and potentially very affordable way. The work the team has done to find out how to apply their knowledge to this problem, building their skills and real-world problem solving is truly impressive."
Team Bath Biodevices has been backed with funding and support from the University's Department of Electronic & Electrical Engineering and Faculty of Engineering & Design, as well as Bath's Impact Acceleration Account. The Biodevices team is now seeking collaborations with industrial partners or further funders and sponsors.