Nikon photomicrography competition unveils more small world stunners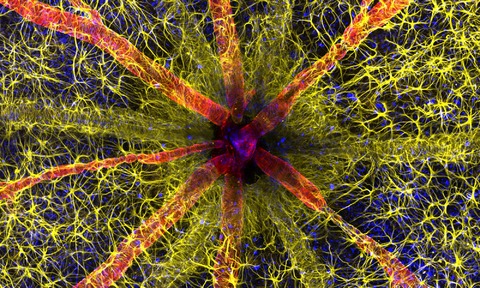 An image of the common by-product of diabetes that causes widespread sight loss affecting up to one in five sufferers has won the coveted first place in the 49th annual Nikon Small World Photomicrography Competition.
Hassanain Qambari's photo, assisted by Jayden Dickson of the Lions Eye Institute, depicts a rodent optic nerve head, as a contribution to the study of diabetic retinopathy.
This occurs when high blood sugar damages the blood vessels in the retina, which can swell and leak, to cause blurry vision or total loss of eyesight.
The picture by Qambari, who has been studying the condition since 2021, shows astrocytes (yellow), contractile proteins (red), and retinal vasculature (green).
"Current diagnostic criteria and treatment regimens for diabetic retinopathy are limited to the late-stage appearance of the disease, with irreversible damage to retinal microvasculature and function," said Qambari. "The visual system is a complex and highly specialized organ, with even relatively minor perturbations to the retinal circulation able to cause devastating vision loss. I entered the competition as a way to showcase the complexity of retinal microcirculation."
Qambari faced intense challenges when including locating fine vessels near 110 microns in diameter as well as creating a protocol for labelling different cell types.
Celebrating its 50th anniversary next year, the Nikon Small World Competition is open to anyone with an interest in photography or video, with separate awards for both categories.
Entrants can upload digital images and videos during the year via the online site.
Said Qambari. "All the images presented in the competition represent the beauty and artistic side of science which may otherwise get overlooked. Such a competition not only celebrates the participant's hard work and passion but may also draw and inspire young scientists to pursue a career in STEM. It certainly inspired me."
To see the full list of his fellow finalists and commended images from among thousands of entries for 2023, click here.
The Nikon award has regularly featured in edition of Laboratory News' Focal Point and 'Speaking a thousand words…' sections. A selection from the 2023 entrants will appear in future editions starting with Issue 6 in December.