Nikon video competition hails winner's insights into neurodevelopment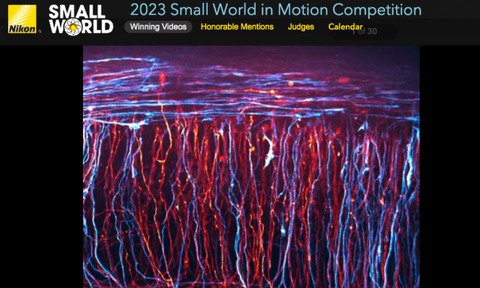 A 48-hour time-lapse video of developing neurons within a chick embryo's central nervous system is the winning entry in this year's Nikon Small World in Motion Video Competition.
Dr. Alexandre Dumoulin's work at the University of Zurich promised to deepen understanding of neurodevelopmental disorders, including autism spectrum disorder and schizophrenia, said the judges.
Like its predecessors, the 13th annual contest, spotlights the beauty and scientific significance of microscopic research – or in the words of this year's winner, highlighting "the beauty of nature through the lens of scientific research
Neurons, the fundamental units of information transmission within the human body, extend long axons to connect with other neurons, eventually forming synapses. Dumoulin's video illuminates the journey of the axons as they bridge the central nervous system's midline, the boundary dividing its two hemispheres. Neurological disorders can disrupt the vital axon connections.
Said Dumoulin: "My investigations delve into the developmental processes of neurons in chick and mouse embryos. By studying these organisms, I aim to enhance our comprehension of how the nervous system functions and identify potential factors contributing to neurodevelopmental disorders."
He further elaborated, "The nervous system is an immensely complex and intricate system composed of a myriad of units that are connected to one another. In this video, we see single units and how they behave."
His video is the result of recent imaging technique, allowing real-time visualisation of cellular information transfer.
"The biggest challenge was to discover a feasible method to access these neurons and capture images over an extended period of time. A combination of precise dissection skills and adapted microscopy techniques proved to be the key," added Dumoulin.
He added that the competition served as an invaluable opportunity to share his research and microscopy passion with the world, stating: "I wanted to share these mesmerizing developing neurons with the public. To me, that's the essence of this competition."
Eric Flem, Senior Manager, CRM and Communications at Nikon Instruments said that, for nearly half a century, Nikon's competitions for still photography and more lately video had produced entries that were visually stunning and scientifically ground-breaking. He added that, although beautiful, Dumoulin's entry can carry significant meaning for the advancement of potential treatments for neurodevelopmental diseases.
The competition's second place was awarded to Fabian J. Weston from Protist Lab Films, who presented a video of blood flow in a small fish's tail fin. Weston's achievement involved meticulous work with a live organism on a 1 mm deep slide, administering filtered sample water with oxygen throughout the filming process.
The third-place award went to Nell Saunders of the Institut Pasteur, for her video showcasing human cells fusing and succumbing to infection by SARS-CoV-2.
To see the leading entries from SWIM 2023 – the Nikon Small World in Motion Video Competition – click here or view Dr. Alexandre Dumoulin's winning entry below.