Study reveals flu pandemics' 20 year long tail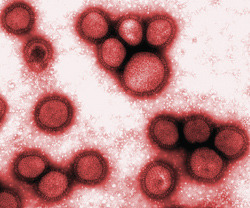 New analysis of historic data from the previous two centuries suggests that influenza pandemics create a heightened risk of populations dying from the disease that lasts for around two decades.
A study funded by the Economic and Social Research Council (ESRC) and published in Social Science and Medicine lays bare the persistent impact of flu. During the 20 year follow-on post pandemic period, a repeat flu outbreak can cause deaths amounting to one third of the initial outbreak deaths, say the authors.
The work – which was led by researchers at the University of Glasgow and involved academics at Lancaster University – examined data from eight large cities in the decade after the 1918-19 global flu pandemic. These included Belfast, Birmingham, Cardiff, Glasgow, Liverpool, London, Manchester and Sheffield.
Evidence showed that recurrent waves in that period claimed nearly as many lives as as the main waves. Comparative data for the period from the USA, plus English and Welsh influenza pandemics records from 1838-2000 appeared to supportd the findings.
And, whereas Liverpool, Glasgow and Birmingham had comparatively low main pandemic wave mortality, each suffered substantial recurrent outbreaks over 20 years.
Dr Spyridon Lazarakis, of Lancaster University Management School, stated: "We believe that these new findings suggest we should now view pandemics and their overall health impacts differently – looking beyond the initial main waves."
The work was supported by a grant supported by the Economic and Social Research Council (ESRC) as part of UK Research and Innovation's rapid response to Covid-19, The Leckie Fellowship, the Medical Research Council and the Scottish Government Chief Scientist Office.