New UK phage centre unveils weapon in battle against TB deaths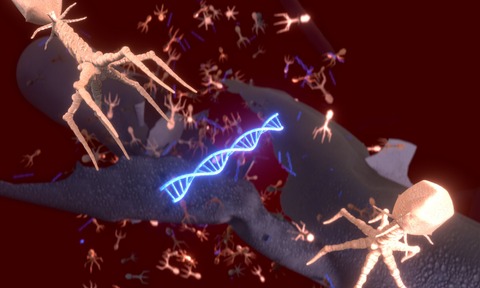 This week sees the official opening of the UK Centre for Phage Research, based at the University of Leicester, in a move designed to boost investment in the use of novel methods to combat bacterial diseases.
Phages, or bacteriophages, are viruses that can grow within bacteria and replicate to combat their effect.
To mark the 16 May official launch of the new centre, the opening will be marked with a KTB (Knowledge Transfer Network) Phage Innovation Showcase, which will feature a new diagnostic for the world's most fatal infectious disease after Covid-19.
Tuberculosis is estimated to be carried by up to 25% of the world's entire human population, says showcase participant PBD Biotech, with carriers often demonstrating no symptoms until weakened immune systems allow the disease to progress.
PBD Biotech has launched the phage-based molecular diagnostic Actiphage, designed to ensure early detection of the Mycobacterium tuberculosis (Mtb) TB bacterium. While Mtb's hard cell wall preventing the release of its DNA has made it harder to detect, the diagnostic uses a phage virus specific to Mtb, that pinpoints live cells of Mtb in the blood.
Co-founder and Professor of Microbiology at the University of Nottingham, Catherine Rees welcomed the latest developments saying:
"These developments emphasise the UK's recognised strength in phage research and I look forward to the exciting new collaborations and technology developments that will arise from these important networking events," she said.
"I am delighted to be supporting the launch of the University of Leicester's Centre for Phage Research and to be given an opportunity to highlight our phage-based technology in the KTN UK Phage Innovation Showcase."
Leicester NIHR Respiratory Biomedical Research Centre Clinical Senior Lecturer and Honorary Consultant Physician, Dr Pranabashis Haldar, outlined the potential of the phage test.
"Phages can enhance the scope and sensitivity of molecular diagnostics for bacterial infections by providing a mechanism to identify and release target genetic material for PCR based amplification.
"There are specific phages known to infect the vast majority of bacteria that cause infections. Phages are also versatile and may be modified to enable different approaches to the development of clinical diagnostics."
Pic: Actiphage finds live mycobacterium tuberculosis in the blood and releases its DNA for identification with qPCR.