Kent Uni lab aims to tackle footballer cardiac threat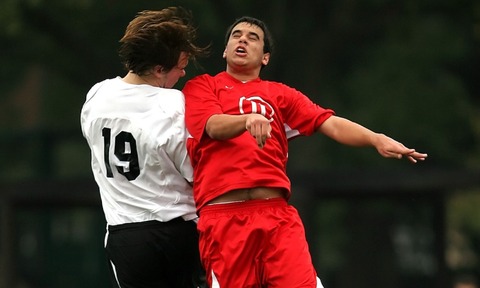 The University of Kent claims it has achieved a first for UK labs by directly imaging at photomicrographic level how muscle activity is controlled.
And the work by a team led by Professor Neil Kad will contribute to understanding how to combat a heart condition which has claimed the lives or resulted in near deaths of several high profile footballers, says the university.
Hypertrophic Cardiomyopathy (HCM) is a common cause of cardiac arrest in young athletes. The disease results in the heart muscle thickening and becoming hypertrophied and then damaged. In a minority of cases this goes on to result in cardiac arrest.
In June last year Danish national team player Christian Eriksen technically 'died' for nearly four minutes before CPR revival when playing Finland in the European Championships.
In the UK in 2012, the then Bolton player Fabrice Muamba suffered a lengthier life-threatening incident before recovering, while Manchester City's Marc Vivien Foe tragically died after cardiac arrest while playing in an international game for his native Cameroon in 2003. The condition also claimed the life of 15-year-old Daniel Yorath, brother of BBC sports presenter Gabby Logan and son of the former player-manager Terry Yorath, in 1992.
Given that muscle activity is considered a likely causative mechanism of HCM, the Kent team employed imaging to demonstrate that the recently FDA-approved trademarked drug, Camzyos (mavacamten), effects a partial reduction in skeletal muscle activity by its influence on the motor proteins that generate contraction.
Said Kad: "It is vitally important to understand the mechanism of disease and also the mechanism of drug action, which is not always fully understood. In this case, we also found there was an additional reserve of motors incapable of being shut down by this drug, we don't know why, but it is important that we find out."
He added that the researchers' next steps would involve collaborating with Italian and American colleagues to study stem cell-derived cardiac cells containing disease-causing mutations.
"Ultimately, we need to understand how each mutation results in disease and how drugs can offset these effects, paving the way for personalised medicine. This new technology offers a new way to understand muscle contraction, and also offers a new hope for the development of drugs against a very cruel disease," he said.
The research paper titled 'Single molecule imaging reveals how mavacamten and PKA modulate ATP turnover in skeletal muscle myofibrils' was published by the Journal of General Physiology.
"With support we will be able to understand how mutations result in disease, paving the way to developing a drug screening technology. Our goal is to have a pill tailored to the type of mutation so that people with this disease can lead normal lives and play sport," stated Kad.
Pic: Pixabay@Pexels