Quantum, click and evolution provide Nobel Science-winning ingredients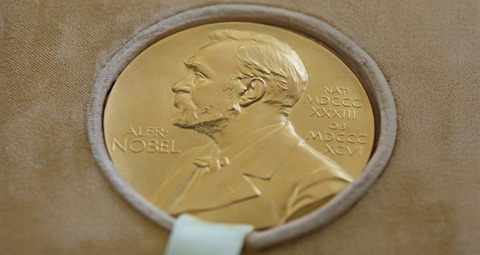 Quantum physics, click chemistry and evolutionary breakthroughs were the dominant themes for this year's winners of the world's best known science accolades, the Nobel Prizes for Chemistry, Physics and Medicine/Physiology
Barry Sharpless (USA), Morten Meldal (Denmark) and Carolyn Bertozzi (USA) were joint winners of the Nobel Prize in Chemistry, in recognition of their work in click and bioorthogonal chemistry. Sharpless previously won the prize in 2011 for his work on chiral catalysts.
The Physics prize was shared by another trio – Alain Aspect (France) , John F Clauser (USA) and Anton Zeilinger (Austria) for, the awards committee stated, "experiments with entangled photons, establishing the violation of Bell inequalities and pioneering quantum information science".
Each prize is worth the equivalent of c£0.8 million, to be shared equally between any winners in their respective category. However, the Nobel Prize in Physiology and Medicine this year goes to a single winner, Svante Pääbo (Sweden).
Pääbo's research team is credited with the identification of the previously unknown Denisovan hominin species in 2010, since established to have co-existed with Neanderthals and Homo Sapiens, and whose genes persist in a minority of modern humans in Asia.
His investigations into Neanderthal DNA also identified interbreeding between Neanderthals and Homo Sapiens, to suggest how this impacted modern humans' immune systems.
Nobel organisers said of his work, on the organisation's website: "[His] research gave rise to an entirely new scientific discipline; paleogenomics. By revealing genetic differences that distinguish all living humans from extinct hominins, his discoveries provide the basis for exploring what makes us uniquely human."
Meanwhile, Chair of the Nobel Committee for Chemistry Johan Åqvist praised this year's winners in that category for applying simplicity to their approach.
"This year's Prize in Chemistry deals with not overcomplicating matters, instead working with what is easy and simple. Functional molecules can be built even by taking a straightforward route," he said.
Click chemistry was coined by two-times Nobel winner Sharpless to denote the manner in which building blocks of molecules fit together. Working independently of each other, his and Meldal's research on copper catalysed azide-alkyne cycloaddition ultimately enabled more efficient development of cancer treatment and DNA mapping.
Bertozzi's work overcame the limitations of click chemistry by the avoidance of copper ions that hadprevented its use in living cells. She pioneered the application of bioorthogonal chemistry – chemical reactions compatible in living systems.
"Click chemistry and bioorthogonal reactions have taken chemistry into the era of functionalism. This is bringing the greatest benefit to humankind," said the Nobel statement.
Physicists Aspect, Clauser and Zeilinger previously won in tandem when they were jointly awarded the Wolf Prize in Physics, in 2010 ­(while Carolyn R Bertozzi matched her 2022 Nobel Award in Chemistry with another joint win in the same category for the Wolf Award this year).
The Nobel award acknowledges each scientist's experimental work into entangled quantum states, in which two particles behave as if a single unit even if separated. Their work on quantum mechanics has generated potential new generation telecommunications systems quantum computers, networks and secure encrypted communication.
"It has become increasingly clear that a new kind of quantum technology is emerging. We can see that the laureates' work with entangled states is of great importance, even beyond the fundamental questions about the interpretation of quantum mechanics," said Anders Irbäck, Chair of the Nobel Committee for Physics.
An interview with Carolyn Bertozzi can be heard below. Interviews with the other Nobel science winners can be accessed by clicking and scrolling down here.