Vitae Three Minute Thesis victor is second Kingston Uni winner in a row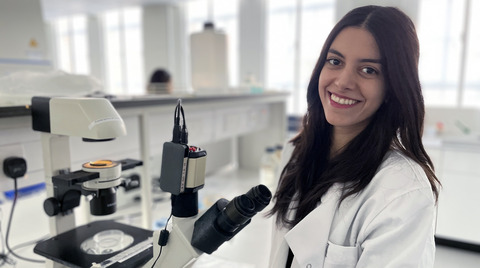 Bioengineer Sadaf Akbari beat rivals from nearly 70 universities across the UK and Ireland to win an annual 'elevator pitch' contest presenting her thesis in just 180 seconds.
Her work examining how smart materials could replace damaged bones won this year's Vitae Three Minute Thesis competition and £3,000 in UK Research and Innovation grant funding for public engagement activities, together with an engraved trophy.
The victory for the Iranian student who grew up in Dubai also marks the second win in two years for Kingston University and the second time a foreign-born female engineer has won them the prize, after Serbian Ana Pavlovic scooped the award in 2021.
"This really has been a once-in-a-lifetime opportunity and my success hasn't sunk in yet," Akbari said. "I've learned so much about how to communicate about my research through the Three Minute Thesis experience and everyone at Kingston University has been so supportive."
Research students from 67 UK and Irish universities participated in this year's event, which was developed from a concept pioneered by Australia's University of Queensland. Those taking part must make a verbal presentation of their topic, presenting "a compelling story on their dissertation or thesis and its significance in just three minutes, in language appropriate to a non-specialist audience".
The initial field was narrowed down by quarter and semi-finals before six finalists were chosen.
Akbari explained her use of computer simulations to model the performance of structures made from piezoelectric materials, capable of producing electrical charges under pressure. She investigated how smart materials could combine with cells to develop engineered tissue between sections of bone to support repair.
"Testing my designs using simulations can reduce the length of experiments by years and the software also helps identify the best bone parts to target," she explained.
"Engineering tissue to replace body parts damaged by accident or disease could go a long way to helping those who can't access donor organs. The materials I'm working with are exciting because the electrical charge mimics what is observed in natural bones, which attracts minerals to aid repair. This strategy isn't organ-specific, so could be applied to other organs too."
After studying for a pharmacy degree at the University of Sharjah in the United Arab Emirates, Akbari first took a Masters in pharmaceutical science at Kingston, before turning to bioengineering.
Commenting on the winner, the University of York's Dr Karen Clegg, a member of the judging panel, said. "This was a really impressive piece of work, with delivery brought home through the use of slides and metaphor, and is really going to make an impact."
Ulster University's Yasna Najmi was the contest's Peoples Choice Winner for her presentation A herbal alternative to treating dental implant diseases.