Fera Science launches £1million laboratory for insect bioconversion in York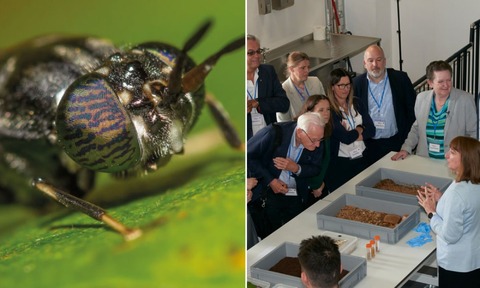 Agri-food and environmental science services Fera Science Ltd has opened a £1 million specialist insect laboratory at its York Bioscience Campus.
A former storage unit on site has been converted for a purpose-built insect research unit, increasing the site space by more than 2,000 sq. ft.
The initiative by Fera, which previously chaired the UK Task & Finish Group on Insect Biomass Conversion, was welcomed by Permanent Secretary at the Department for Environment, Food and Rural Affairs Tamara Finkelstein.
Speaking as the site launched, she stated said: "This is a critical time for innovation in biotechnology and the insect unit has the potential to reduce our impact on the environment, making progress towards a more circular economy.
"The breadth of national and international partners involved will help ensure its success and demonstrates Fera's international reputation for taking scientific innovation to new markets."
The facility will aid the expansion of insect bioconversion and upcycle biomass residues into valorised products. Fera will advise industries on the feasibility and scale up processes by which they can best adopt the technology.
Insect bioconversion creates valorised products, such as proteins, oils, packaging materials or soil nutrients. Most of Fera's work has focused on developing this application with protein-rich black soldier fly larvae suitable for feeding to monogastric animals including poultry, pigs and fish.
The laboratory will also enable collaborations with universities, start- ups, insect farms and associated national and international regulatory authorities, including the Department for Environment, Food and Rural Affairs (Defra) and the Food Standards Agency.
CEO Dr Andrew Swift, commented: "The rising pressure to meet consumption for the growing population globally estimates that more than 250 million metric tonnes of additional protein will be needed per year in the decades ahead. This puts immense pressure on our current animal feed protein sources such as soy and fishmeal which are derived from unsustainable sources.
Insect bioconversion presents one route to provide sustainably sourced protein into the food chain to help overcome this challenge. Under a circular economy, this technology can reduce biomass waste through consumption and conversion into high quality protein for animal feed as well as other bi-products of high value to food production."