Young people still choose BMW over biotech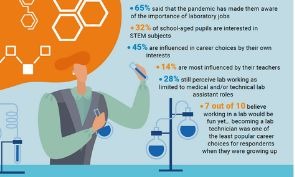 Starlab International recently carried out a survey about the perception of laboratory careers post-pandemic among 2,000 young people aged 16 to 19 across the UK and Germany.
65% said that the pandemic has made them aware of the importance of laboratory jobs
32% of school-aged pupils are interested in STEM subjects
45% are influenced in career choices by their own interests
14% are most influenced by their teachers
28% still perceive lab working as limited to medical and/or technical lab assistant roles
7 out of 10 believe working in a lab would be fun yet… becoming a lab technician was one of the least popular career choices for respondents when they were growing up
Starlab CEO Klaus Ambos said: "The results of the survey suggest that young people lose their inherent interest in STEM at a certain point during their school days and choose a career based on criteria such as prestige, salary and work/life balance. Youngsters with an aptitude for the sciences and the grades to match are looking for jobs at management consultancies, IT developers or the automotive industry.
"In other words, BMW rather than biotech. One reason for the lack of young talent coming through seems to be that most people have only a stereotypical idea of what working in a lab entails. The first thing that comes into most people's heads when they consider lab work is analysing blood and urine at a doctor's surgery."