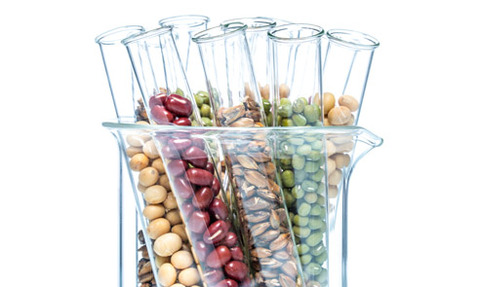 Safe and trusted food is essential for the food industry to prosper — especially in today's landscape of increased transparency.
A heightened focus on sustainability has added another level of scrutiny for businesses within the food value chain. From food processors to laboratory services, each player has a role in reducing the environmental impact of bringing food to consumers.
To answer consumers' growing support for companies that promote sustainable practices, processors are being tasked to step up their sustainability efforts. For example, JBS, a leading global food company, set their 2020 sustainability goals to include reducing greenhouse gas emissions by 20%, reducing water use by 10% and to have 100% of its suppliers in agreement with its Supplier Code of Conduct [1]. JBS is not alone in partnering with suppliers who share the same values and mission to achieve a more sustainable food supply.
Contract labs, an important partner of food processors, can help drive sustainability efforts by implementing food safety testing strategies that reduce water use, waste and carbon footprints through technology that reduces environmental impact into their business strategy.
Implementing sustainable practices
While food safety testing methods can often be selected based on cost effectiveness rather than sustainability factors, many labs are now making decisions based on government regulations, customer demand for evidence that partners are engaged in sustainability initiatives, as well as their own corporate values around sustainability.
By choosing food safety testing solutions that help reduce the environmental footprint of a process, food contract labs can not only detect food contamination to help improve food safety globally, but also contribute to a significant reduction in waste, energy, and water use.
Beyond adopting more sustainable practices and testing methods, contract labs that highlight measurable outcomes from their sustainability initiatives can build brand recognition and create a competitive advantage.
Food contract labs can not only detect food contamination to help improve food safety globally, but also contribute to a significant reduction in waste, energy, and water use
Contract labs that communicate sustainability efforts in a clear, simple way can differentiate from competitors in the market and provide additional value for food processors implementing sustainability criteria across their supplier network.
3M Food Safety works closely with contract labs to provide integrated food safety testing solutions, including methods for both pathogen and indicator organism testing, that can help reduce the environmental footprint of a process. In 2020 alone, 3M customers avoided emitting 16.6 million metric tons of CO2 [1] equivalents through use of select 3M product platforms, including various films and food safety products.
Since 2015, this number totals nearly 75 million metrics tons [2]. Moreover, 3M ensures that all new products demonstrably consider reusability, recyclability, waste reduction, energy and water savings, and responsible sourcing or use of renewable materials as part of its design requirements [2].
3M Food Safety plays an important role in this equation by providing solutions and services that contract labs, and their food processing customers, can rely upon.
Sustainable solutions from 3M
As a prime example of innovation helping to reduce the environmental footprint of a process, 3M Petrifilm Plates reduce waste by 66%, cut greenhouse gas by 75%, save energy by 76%, and utilise 79% less water throughout the process of microbial indicator testing.[3] Compared to traditional agar methods, 3M Petrifilm Plates can help reduce the environmental impact of microbial indicator testing through innovation in its materials and packaging as well as simplifying the required process steps within a lab [3].
Interested in the environmental impact 3M Petrifilm Plates could have in your lab? Utilise the 3M Petrifilm sustainability calculator by inserting the number of agar plates used for indicator testing in a typical week to see the potential reduction in waste, greenhouse gas emissions, and water and energy usage by switching to 3M Petrifilm Plates.
The 3M Molecular Detection System is another powerful food safety testing solution that can help reduce the environmental impact of a pathogen testing process. For example, testing using the MDA2-Salmonella product can reduce energy demand by 77%, water consumption by 77%, greenhouse gas by 76%, and reduces waste by 83% compared to the traditional ISO test method [4].
Results are obtained via streamlined tests for unique Salmonella genetic sequences, without the need for multi-staged cultural and biochemical tests performed individually in Petri dishes and test tubes. These simplified molecular methods use fewer consumable materials and less energy to screen out negative samples [4].
Contract labs can utilise the 3M Molecular Detection System sustainability calculator to see how switching systems can reduce water, waste, carbon and energy. 3M Food Safety is committed to continuing to help contract labs reduce their environmental footprint and achieve sustainability goals.
Reach out to a 3M expert to understand how 3M products can help your laboratory operations. Learn more about introducing 3M Food Safety solutions to your lab, or collaborate with a 3M specialist.
Contributing authors from the Food Safety Division of 3M

References:
2019 Sustainability report. Fast forward: Sustainability at JBS USA. (2019). JBS USA. Available at: https://sustainability.jbssa.com
2021 Sustainability report: Improving every life. (2021). 3M. Available at: https://multimedia.3m.com/mws/media/2006066O/2021-sustainability-report.pdf
Bakken, H. Howland, J. (2015). Reduction in primary energy demand, blue water consumption and greenhouse gas emissions from 3M Petrifilm Plates compared to traditional microbiological analysis method. 3M. Available at: https://multimedia.3m.com/mws/media/1142648O/3mpetrifilm- platessustainability-whitepaper.pdf
Bakken, H. Barnes, C. Howland, J. Zook, C. (2017). Reduction in primary energy demand, blue water consumption and greenhouse gas emissions from 3M Molecular Detection Assay 2 – Salmonella