New map of Southern Ocean floor will boost understanding of climate processes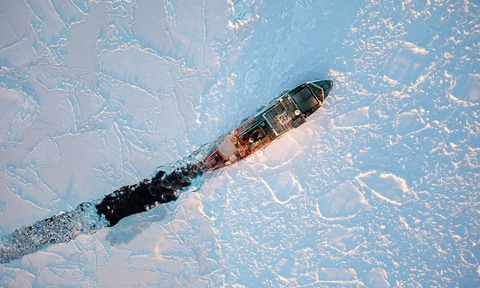 International researchers have completed what has been hailed as the most detailed seafloor map of the Southern Ocean ever published.
The second version on the International Bathymetric Chart of the Southern Ocean was produced by the team led by the Alfred Wegener Institute.
Head of Bathymetry at the Alfred Wegener Institute, Helmholtz Centre for Polar and Marine Research (AWI) Dr Boris Dorschel-Herr, said the IBCSO v2study represents "the best and most detailed representation of the Southern Ocean to date".
"For example, the seafloor topography of the Southern Ocean is essential to understanding a range of climate-relevant processes. Warm water masses flow into deep troughs in the continental shelf towards the ice shelves and glaciers of the Antarctic, affecting how they melt.
"Conversely, the stability and calving behaviour of glaciers and ice sheets greatly depend on the features of the ground beneath them."
The ocean plays a major role in world climate, with the Antarctic Circumpolar current influencing others in the Pacific, Atlantic and Indian oceans. Substantial levels of carbon dioxide and heat are absorbed in the region which contains vast numbers of unique species.
Despite the growth of satellite technology, this has not been able to replicate the high resolution afforded by the most sophisticated research ships. But the scale of improvement in mapping by vessels has been enormous since the completion of the first iteration, IBCSO v1, in 2013.
The new version relied on 25.5 billion measurements from 88 institutions in 22 countries and covers 2.4 times as great a surface areas
To download the digital model and high resolution map free of charge click here and here.