NASA hosts open house for Mars technology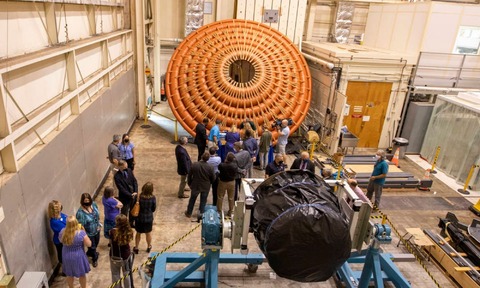 Space agency NASA is to host a media event to demonstrate its LOFTID technology when it is inflated for the last time on Earth before its spaceflight demonstration.
LOFTID – the Bernard Kutter Low-Earth Orbit Flight Test of an Inflatable Decelerator – is scheduled to launch with the National Oceanic and Atmospheric Administration's JPSS-2 polar-orbiting satellite from Vandenberg Space Force Base in California on 1 November. It is hoped it could one day help land humans on Mars.
The media event will take place at 2 p.m. EDT Wednesday, June 15, at the Langley Research Center in Hampton, Virginia.
After transportation aboard a United Launch Alliance (ULA) Atlas V rocket, LOFTID will inflate and then descend back to Earth from low-Earth orbit to demonstrate how the inflatable heat shield can slow down a spacecraft to survive re-entry.
NASA and ULA experts will provide a briefing on LOFTID and NASA's Moon to Mars technologies, followed by interview availability and the opportunity to see several additional laboratories developing technologies that will enable NASA's return to the Moon and future Mars exploration.