It's all just a matter of perception
In anticipation of the announcement of this year's competition winners, we asked previous winners a bit more about themselves and the process that led to their Olympus Image of the Year light microscopy image
There are no requirements for contestants to be professional scientists and, as long as they have a passion for microscopy, winners can come from all walks of life. The top four 2020 winners, Werner Zuschratter (global winner), Justin Zoll (the Americas), Grigorii Timin, (EMEA), and XinPei Zhan (Asia Pacific) each have their own perspective on what makes a great image and what has inspired them to take up microscopy as a passion rather than simply a scientific research tool. From bartender to PhD researcher, they have each walked their own individual paths to becoming an Olympus Image of the Year winner.
Werner Zuschratter, global winner 2020
Q: Can you tell us about your scientific background?
A: I studied biology with a focus on neurobiology at TU Darmstadt. In 1992, I moved to Magdeburg to today's Leibniz Institute for Neurobiology (LIN) and took over the management of a special laboratory for electron- and laser scanning microscopy. The LIN is a research institute for learning and memory with a great need for imaging techniques to explore structural and functional relationships of plasticity at all levels, from the molecular and cellular level to small animal imaging and human imaging with MRI.
To bridge the various modalities, a couple of years ago we founded an overarching core facility called Combinatorial NeuroImaging Core Facility (CNI), which I coordinate with a colleague from human imaging. CNI provides infrastructures and training to approximately 150 users per year, but the scientists of CNI also conduct their own research projects.
In addition to high-resolution imaging and the observation of dynamic processes, my research interest is focused on the functional analysis of metabolic processes by using time-resolved Fluorescence lifetime imaging microscopy (FLIM) for NADH/FAD imaging. For this purpose, we have developed an ultra-sensitive quantum detector, called LINCam, that is now being marketed through a start-up.
Q: What does your winning image show?
A: The picture shows a rat foetus that was recorded as individual stacks of images (7 x 13 stacks with 168 focal planes each) with the help of a confocal microscope and then put together to form an overall picture. The total memory requirement of the original data set is 22.9GB. The individual images were recorded sequentially in different spectral ranges (blue, green, and red), with two of the three channels showing tissue autofluorescence and the third channel showing skeletal staining with alizarin red.
The sample was originally prepared in a former research project to explore the effects of pharmaceuticals on embryonic development.
I reused the sample to test the quality of clearing methods for whole-body imaging (with confocal or light-sheet microscopes), to extract information from autofluorescence in label-free imaging experiments in combination with histochemical staining and to discern different autofluorescent species using advanced spectral and time-resolved microscopy techniques (e.g. FLIM).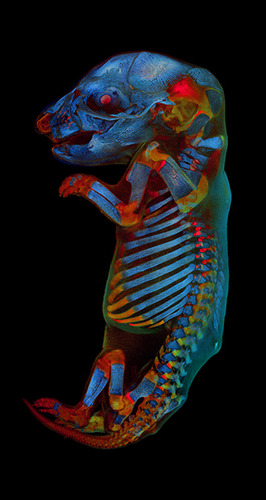 Image: The 2020 winning image was taken by Werner Zuschratter (Germany).
Whole rat embryo t large scale confocal image of a fixed and cleared rat embryo. Two channels show different autofluorescence sources of the tissue, whereas the third channel shows the skeleton stained by alizarin red.
Technical details of the imaging procedure:
Tile scan of 7 x 13 stacks with 168 focal planes each at 20 µm step size.
Magnification: 5 x NA 0.15 objective
Grey values: 12 Bit
Image size: 2329 µm x 2329 µm x 3360 µm per stack,
Pixel resolution: 512 x 512 per tile with line average: 3;
Memory requirement: 252 MB per stack; 22,9 GB for all stacks
Excitation: Channel 1: 405 nm; Channel 2: 483 nm; Channel 3: 568 nm
Detection: Channel 1: 430 – 470 nm; Channel 2: 496 – 541; Channel 3: 641 – 690 nm
Post-processing: For post-processing (e.g. z-projections, merging of stacks and adjustment of colour/contrast) I used "ImageJ/Fiji" and "Adobe Photoshop" software.
Q: Why did you choose to submit this image?
A: Being a microscopist, you always want to see both high-resolution details and an overview of the sample, or navigate back and forth between both views. For me it is a challenge to capture a widely transparent sample of this size completely in 3D with a microscope and to differentiate tissues by their specific autofluorescence (either by spectral separation or due to their lifetimes). For this reason, we reused old samples originally prepared for development studies and imaged them by confocal and time-resolved light-sheet microscopy. The scans resulted in impressive pictures that emanate something exceptionally aesthetic but also stimulate reflection. Therefore, I came to the conclusion that one of the pictures might be eligible for submission to the competition.
Q: What does the art of science mean to you?
A: In everyday scientific life, images are generally used to document results. There is hardly any time for the beauty of the microcosm. In our CNI core facility, however, we try to convey the aesthetic dimension of images to our users in addition to the exact recording of the scientific findings.
In this regard, microscopy offers a wealth of opportunities to stimulate creativity and inspiration and to sharpen the eye for new things. For example, in order to initiate a dialogue with the public about science and art, three years ago we held an art exhibition with pictures from our users in a gallery and we maintain a permanent exhibition for visitors in our institute.
Q: Where and when did you first learn to use a microscope?
A: My interest in microscopic photography was aroused during my studies at TU Darmstadt. At that time, it was common in practical courses to sit at the microscope for days and draw; a practice I no longer consider appropriate. Fortunately, my future boss offered me the use of his group's research microscope, equipped with an analogue camera and automatic exposure metering.
During my diploma and doctoral thesis, I was introduced to the world of electron microscopy. With the advent of confocal microscopes in the 1990s, the improvement of fluorescent dyes and the introduction of molecular biological labelling techniques, I turned back to light microscopy with emphasis on dynamic processes using live cell imaging. Since functional live cell imaging requires low doses of light to minimise phototoxicity, we have focused during the last 15 years on researching ultrasensitive imaging processes based on the principle of single photon counting, which has finally resulted in the development of a new camera for FLIM, the LINCam.
Q: What do you like about using microscopes?
A: In our department, in addition to an electron microscope, we have numerous fluorescence microscopes, among them several confocal-, light-sheet-, STED- and FLIM-microscopes from a wide variety of manufacturers. What I particularly appreciate about Olympus microscope systems is the modular structure as well as the high transparency and excellent quality of the optics. This is why we use an IX81 with TIRF in one of our FLIM setups. Furthermore, one of our light-sheet microscopes is based on an Olympus MVX 10 Zoom microscope. During a recent visit to the European headquarters of Olympus in Hamburg, we could test our LINCam on a SpinSR10 confocal spinning disc system and saw the excellent performance and possibilities this combination opens up for 3D FLIM applications.
Q: Is there anyone you'd like to thank for their support?
A: First, I particularly like to thank the jurors for the great appreciation that the award means. Furthermore, I like to thank my team from the core facility CNI for their excellent cooperation.
Justin Zoll, Americas winner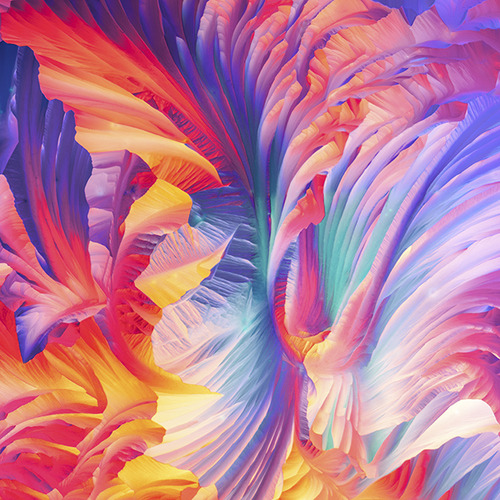 Justin Zoll was the 2020 Americas winner. His image shows crystallised amino acids L glutamine and beta alanine which he took using an Olympus BH2, a 4x Nikon Plan Apo objective, a 10x ocular projection piece, and a Canon 5DMkIV. The final image is a stitched panorama of approximately 12 raw images and he used polarising filters to reveal colour and structure.
"The intricate organic shapes and vibrant colours available through the use of polarized light make this combination a favourite of mine. I was particularly happy with the depth and form present in this image. It has a very natural and graceful feel to me," explained Justin. "What I find to be most striking, and what I am happy to share with others, is how these elegant and complex forms can come from such simple chemical and physical interactions. The same simple sets of rules that allowed life to evolve can be seen showing off their fascinating properties in real-time under your microscope. The beauty and complexity of the microscopic world echoes that of the macroscopic so perfectly."
Justin has been creating art from microscopy since 2016. With no formal scientific background, he has always been very interested in science and has pursued it in his own time. We asked him how his interest in microscopy has led to what is now a growing profession.
"I played with simple microscopes as a child, but it wasn't until around 2016 when my good friend Nick let me experiment with his BH2 that my interest was rekindled. That microscope inspired me to start this work and it encouraged me to buy a BH2 of my own. It is the only microscope I have much experience with and so I have to say I'm very pleased!"
"Until Covid began, I was a bartender but have since been out of work. I do some microscopy work for various clients (mostly for packaging and advertising) and photograph weddings with my sister Heather. My concert, nature, and wedding photography informs my approach to microscopy. It started as a hobby, but I have been extraordinarily lucky to have secured a number of microscopy projects which are making it a bit more than a hobby at this point."
"Because of an NDA I can't say exactly what I'm working on, but I do have several cool projects for clients in the works which folks might see in the real world within the next year. I can say that I've done a bunch of work for No.3 Gin in London and continue to produce images of their spirits and cocktails on occasion."
"I'm very honoured to have received this award, especially when so many amazing scientists and artists submitted images. I am super excited to use this new microscope; as much as I love my old BH2, sometimes it can show its age! I look forward to trying new techniques and exploring new materials in samples in the coming year."
Grigorii Timin, EMEA winner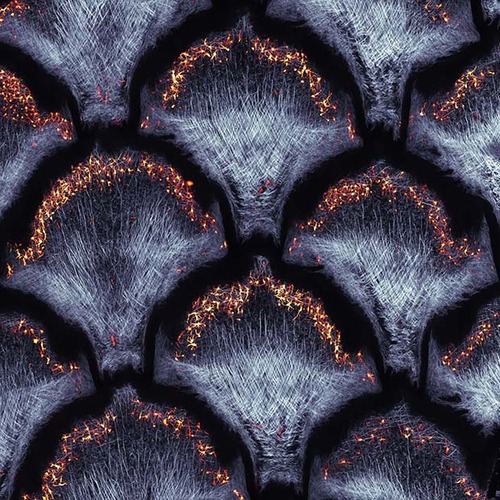 Grigorii Timin's winning image is of collagen fibers, pigment cells and red blood cells in the dermal layer of scales in African house snake embryo. "For me, this image is attractive for being simple. In large-scale view we see only scales, while at the small-scale we see only collagen fibres, pigment cells and a few red blood cells," said Grigorii. "These objects differ not only in shape, but also in colour. There are no mid-sized objects between these two spatial scales and the image is repetitive at both large- and small-scale while being technically sophisticated."
In the image, the optical section is going parallel to the skin surface at a depth where scales begin. That's why regions of scales containing pigment cells are not scale tips, but scale bases. To achieve the image, Grigorii performed nonlinear optical imaging of cleared, whole-mount sample of embryonic skin with a Leica SP8 DIVE confocal microscope with 63x oil-immersed objective lens. When excited at 860 nm wavelength an emission signal was detected in two channels: second harmonic generation signal of collagen fibers at 430nm and two-photon excitation fluorescence of dermal pigment cells at 550-700nm.
Grigorii was inspired to take up microscopy be one of his teachers and has fond memories of his first desktop microscope. "When I was twelve my school biology teacher gave me a microscope to use at home, so that I could practice histology and plant anatomy at any time and have some fun observing protists and microscopic worms. It was a heavy German machine build before the Second World War, with wonderful optics and this kind of old-fashioned design, that made you feel like a scientist just by having this microscope on your table," he said. "In 2017, I was already finishing my master project at the Institute of Cytology of the Russian Academy of Sciences when they bought their Olympus VF3000 confocal. So, I don't have much user experience. What I do remember is that it was remarkably faster than the Leica SP5 that I had used before. I'm now a PhD student at the University of Geneva. I'm working on the development and evolution of skin appendages and skin colour patterns in reptiles under the supervision of Prof Michel Milinkovitch. I am happy that this requires a lot of microscopy."
When asked if he enjoys creating art with his science, he explained that his imaging data serves scientific purposes first and foremost. "When facing the beauty of micro-world organisation, I think about how to highlight it, how to make it visible and clear. The artistic part of this working process just appears naturally due to visual associations, allusions, and a feeling of harmony. Microscopy extends our perception of reality in the most accessible way - visually."
XinPei Zhang, Asia Pacific winner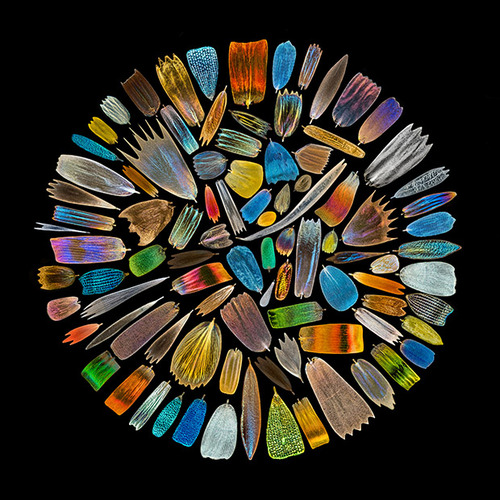 XinPei's winning image shows a pattern of wing scales from different butterflies under 50x objective. He found it visually shocking to observe different patterns of wing scales of butterflies in the micro-world. To capture this image, the wing scales of different butterflies were shot separately and then put together into one artwork.
"I used VANOX upright optical microscope, 50x objective and reflected light imaging, with oblique illumination," he explained. "Butterfly wing scales were placed on transparent glass with a black background underneath."
XinPei is a Government officer. His interaction with microscopy is purely a hobby and passion. "I live in Ya'an, Sichuan Province. We enjoy a superior natural environment and hope to protect it. I wish more people would pay attention to the natural environment and ecological protection. Only by protecting nature, can people live a healthy and happy life.I do not have any scientific background. I majored in radio and TV editing in college. The first time I used a microscope was to observe onion epidermal cells in a biology class at middle school in 1996. I now hope to show my son the magnificent micro-world, so that he can feel the wonder of nature. At the same time, I also want to convey the beauty under the microscope to more people, attracting them to nature."
XinPei has been creating art with his microscope for about 8 years, since 2013. "After the 2013 Ya'an Lushan earthquake, my whole mindset changed. I hope I can enjoy life more, live a richer life and explore its depth. Olympus is a brand with a high market share in China, which can be seen in many laboratories. That's the reason why I had the opportunity to use Olympus microscopes. The first Olympus microscope I used was model CH2. After that, I began to learn more about microphotography. We get to see the micro-world that are invisible to the naked eyes. It shows people another dimension of wonder in the micro-world."
"I use a microscope to take images of sand from all over the world. To get domestic sand, I usually ask sellers to mail a small tube of sand along with the local products I purchase all over China, and sometimes, I ask my friends to bring some when they travel. The foreign sand is obtained by mailing and exchange. A friend of mine once gave me many butterfly wing specimens. And I thought it would be a great pity if they went mouldy and damaged due to poor preservation. Then I came up with the idea that I could take pictures of the wing scales with the help of a microscope. In this process, I witnessed the wonder of the micro-world and was quite shocked."
About the competition
Olympus is currently sifting through this year's entries looking for the best light microscopy images in 2021. This year's competition closed on 31 January with winners due to be announced sometime this month.
Olympus' third Global Image of the Year Life Science Light Microscopy Award will recognise the very best in life science imaging worldwide. Images must be taken by Entrant using a light microscope. Macro photography is not eligible. Images taken with an electron or any other microscope(s) that do not capture imagery using optical light technology are not eligible. Images do not need to be taken with an Olympus-branded microscope. No purchase is necessary to enter or win.
Keep your eye out for this year's winners announcement on the Olympus Life Science website.