How to ensure secure biological material transportation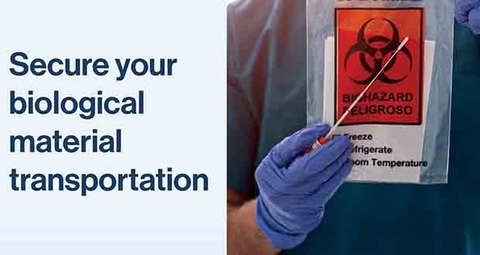 The correct transport of biological material is a major aspect of modern bio-legislation. Here, Dennis Van der Slot sets out crucial packaging considerations when looking to optimise the traceability and security of biological sample transportation and ensure the safety of all
There are many reasons why ensuring the security and traceability of biological materials in transit is so critical, not least the safety of anyone involved in handling samples, be it patients, lab technicians or couriers. With this thought in mind, what packaging solutions exist to protect samples and handlers across the supply chain, and are any products available that monitor and control temperature to ensure sample integrity?
The correct transport of biological material is a major aspect of modern bio-legislation, where demands on the export, packaging and shipping of biological material are manifold and the number of potential mistakes is virtually without limit. To assess the situation correctly it is first worth considering what constitutes a biological material. In short, these materials comprise samples of human or animal bodily fluid or body tissue. Any samples of this type can be shipped "as is", or frozen before transportation from hospital, clinics, and pharmacies to a laboratory for further analysis.
The costs of poor or incorrect packaging
There can be dramatic consequences for biological samples that suffer incorrect or improper shipment, principally in terms of human cost and potential danger. Regarding human cost, imagine if an irreplaceable sample is lost, or if poor transportation distorts the analysis process and impacts upon the subsequent diagnosis and/or medication? Or what if the loss of a sample leads to a delay in the diagnosis and/or medication? The implications and repercussions for patients are potentially immense.
The other issue is danger. After all, it is necessary to consider all samples as potentially infectious, so incorrect or poor transportation could put couriers and the general public at risk. Put simply, any contact with the sample without the appropriate protection may infect a human. The consequences are both physical - when endangering people - and costly in the event of any subsequent compensation claims and damage to corporate reputation.
Rail, road, air, and water
Unfortunately, each mode of transportation has its own set of rules when it comes to transporting biological samples, applying to road, rail, air, or water. For instance, the International Air Transport Association (IATA) publishes Dangerous Goods Regulations (DGR) that incorporate legally binding ICAO (International Civil Aviation Organization) provisions, which apply to all international flights. For national flights, civil aviation authorities apply national legislation, although this is normally based on the ICAO provisions, but with potential variations.
Rail regulations concerning the International Carriage of Dangerous Goods by Rail (RID) apply to countries in Europe, the Middle East and North Africa, while the European Agreement concerning the International Carriage of Dangerous Goods by Road (ADR) applies to 46 countries. Similarly, the carriage of dangerous goods in packaged form by sea must comply with the relevant provisions of the International Maritime Dangerous Goods (IMDG) code.
In all cases, transport conditions need to ensure shipment speed, sample integrity (including temperature), safety, traceability, and confidentiality. Here, packaging is clearly a critical element of ensuring the optimal solution.
Package deals
P 650 (ADR - road) and PI 650 (IATA - air) are the packaging instructions for UN 3373 category B materials (UN3373 provides a definition of biological materials and their required handling). For ADR, it is sufficient that either the outer or secondary packaging is rigid, whereas for IATA it is mandatory to have rigid outer packaging. Although the difference is small, it remains important for the structure of the complete packaging.
In both cases, at least one of the surfaces of the outer packaging must have a minimum size of 100mm x 100mm, which is necessary to display the UN3373 logo in the required size. Both regulations also require that fragile primary receptacles, such as glass or plastic test tubes or bottles, always remain separate by wrapping them individually with shock and moisture absorbing material before placement in secondary packaging. Any contact between primary packaging is not permissible. In most cases, the use of one or more absorbent wipes or pouches is commonplace, as is the use of foam preforms in combination with absorbent material.
A further stipulation is that the secondary packaging must be waterproof, while regarding the size and content of the package, there are further differences which require consideration. Here, IATA has imposed certain maximum limits that ADR does not reflect. For instance, according to IATA PI 650, the primary packaging for liquid biological substances (category B liquids) cannot exceed a capacity of 1litre (the complete package can hold up to a maximum of 4 litres). Concerning solids, the maximum gross weight of contents is 4kg. Besides that, for IATA the primary receptacle or the secondary packaging must be capable of withstanding, without leakage, an internal pressure of 95kPa.
Layering the benefits
As an essential element of any solution involving the transportation of biological materials, the packaging must include three component layers. The first layer is the primary leak-proof receptacle, which can be a tube, vial or other container typically made of glass or rigid plastic. The second layer is a shock-resistant and leak-proof material that encapsulates the primary packaging, with an absorbent layer between the two in most instances. The outer package (third layer) must be resistant to the handling and potential impacts that come with any form of transportation.
There are of course numerous companies trained and qualified to transport biological material. However, it is not straightforward to comply with regulations and guarantee sample integrity. This is where the expertise of a logistics partner with a proven track record in the packaging of biological materials can add genuine value.
Partners such as Transposafe, for example, offer solutions for all layers of packaging that ensure the safe and correct transportation of biological materials. These include solutions designed specifically for leak-free storage, single-use mailbox packaging, and even specialist cool containers to ensure the security and transportation of every shipment. But these are just the tip of the iceberg, a good logistics partner can supply everything required to protect biological materials from leaks, damage, and contamination during transportation, all while ensuring security and traceability.
Author: Dennis Van der Slot is EMEA Product Manager at Transposafe, transposafe.co.uk