Technological research and development in agritech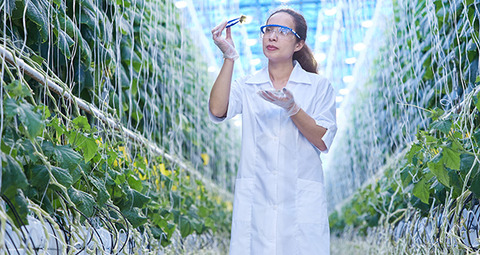 It is increasingly important for agricultural research to raise awareness of conditions leading to low productivity and problems like excessive loss of water during irrigation, damage to land and crops, and critical water pollution. A new online Agriculture Technology directory helps farmers and agricultural researchers to stay up to date with new technologies and techniques capable of improving operations.
A new online, interactive Agriculture Technology directory by Computer Review, tracks the activity of over 600 companies in 45 countries daily. The real-time information identifies development driving technology, including related opportunities as they become available. The pioneering companies, schools, and research labs reviewed in the directory represent the Agricultural Technology market worldwide. The directory includes company descriptions, markets, analytics, announcements, blogs, research, executives bios, job listings, and more. For more information see Agriculture Technology at https://www.computerreview.com/
Today, there are many new techniques and advances in technologies used by agritech laboratories and farmers to increase efficiency, optimise the use of water for crops, and reduce the negative effects on the environment. Many organisations are researching seed types, the optimum amount of water and fertilisers for certain types of crops, effects of new agriculture devices on productivity, how to minimise cost while maintaining quality to increase revenues, the effects of chemicals on soil, and more.
Agricultural technologies that are applied in agritech laboratories to analyse productivity and application in fields, farms and our environment include:
Geographic Information Systems
A Geographic Information System (GIS Software) is designed to store, manage, and visualise any kind of geographic information to plan appropriately and to make well-informed decisions about the type of crops which would suit a certain location based on the texture and qualities of soil and weather conditions in that area. As the farmers do not need to treat the entire field and only the areas which require treatment, it would lead to cost-cutting, reduced damage to plants (due to fertilizers applied to the areas which did not need that), less runoff of chemicals into rivers and groundwater and also the conservation of water.
Satellite Imagery
Satellite images can be used to monitor land properties, plantation requirements, predict changes in weather, observe the area to form a proper agricultural plan, and also develop existing plans. Generating field images using satellites provides us with information that can be analysed to learn about trends which helps with a consistent biomass estimation.
Aerial Drones
Drones are also considered to be very useful to deal with insects; the invasion is prevented by applying the insecticide on the hazard areas using drones, all while reducing the likelihood of direct exposure leading to chemical poisoning and hence damaging vegetation and animals. They also provide information through images and the images taken through drones have a higher resolution as compared to satellites.
Temperature and moisture sensors
Temperature and moisture sensors are very commonly used environmental sensors to check the climate of an area and the humidity conditions. These devices are often used in situations in which weather conditions may be extreme or need to be controlled due to varying reasons. Areas where there is high moisture, there is high humidity, and the weather is considered to be towards the warmer side. In addition, as the climate is a major factor that needs to be considered before cultivation, these sensors are of great value to the cultivators.
Farming software and online data
Farm management software provides the farmer with a detailed view of all farm activities and vegetation performance through a single platform, which enables efficient planning, the capacity to track activities in real-time and thus take the right decisions at right time to improve their productivity.