Rising costs and material shortages pile pressure on UK's over-stretched laboratories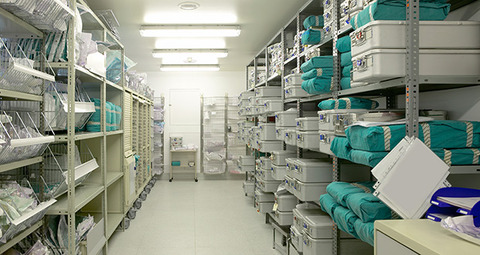 A stark warning has been issued about the challenges facing under-pressure laboratories in the UK as spiralling costs, rising demand and stockpiling strategies have led to 'empty warehouses' and a shortage of vital laboratory equipment. A survey, conducted to test the general mood of the sector, suggests pandemic response measures continue to impact non-medical laboratories.
The surge in demand brought about by COVID-19 is pushing medical and non-medical laboratories to their limits, the head of a laboratory supplies company has said, with concerns that clinical laboratories have been favoured due to the pandemic.
The Starlab Group, a European supplier of laboratory products with a UK division, conducted a survey of more than 200 laboratory employees from the UK, Germany, Austria, Italy and France.
The 'mood barometer' showed that only 23 per cent felt they were adequately supplied with the necessary liquid handling materials such as protective gloves and pipettes, a figure that has almost halved compared to last year (39 per cent).
Late deliveries are to blame, according to 64 per cent of those who took part in the survey, with 58 per cent attributing the shortage of materials entirely or mainly to the fact that medical laboratories are being given preference because of the pandemic. This is a significant rise on last year's figure of 46 per cent.
Starlab CEO Klaus Ambos said: "With the emergence of the Omicron variant, infection rates and demand for PCR tests increased so rapidly at the turn of the year that laboratories have long since reached their limits in terms of materials and personnel. The consequences are radical restrictions on testing and, above all, impacts on the vast majority of laboratories in Europe working in the non-medical sector that often do not feature at all in the current discussion.
"New mutations and coronavirus waves have repeatedly created a huge demand surge. In addition to the already tense situation and high demand, this has resulted in empty warehouses for many producers and distributors."
Mr Ambos said that shortages of laboratory material could lead to less testing, fewer results and crucially, missed research opportunities to discover new mutations of the coronavirus to help prevent deaths in the future.
Starlab reports that staff shortages, insufficient testing capacity and rising costs has put pressure on laboratories across all sectors, including academic fields, even more so compared to last year.
Denise Fane de Salis, UK Managing Director & Area Head for Northern Europe, said: "COVID-19 is the largest, but by no means the only challenge facing Europe's laboratories. The mood barometer we commissioned once again clearly shows that we need to look at the entire range of laboratory work. The laboratory sector is not only essential in medicine and research. Diagnostics have long since encompassed almost all areas of life and the economy."
She added: "The entire laboratory industry has been in a vicious circle for two years. While more and more material is needed, there is a lack of supplies. At the same time, laboratories want to stockpile material, putting additional pressure on demand, suppliers and prices. Institutes that perform important basic work cannot keep up with the price competition triggered by COVID-19 and are particularly suffering from this situation."
The Starlab survey reports that while 57 per cent said that the demand for liquid handling products has remained more or less the same compared to the first year of the pandemic, 30 per cent were reporting up to 50 per cent higher material requirements last year.
The mix of strong demand, raw material shortages and supply bottlenecks is not without consequences for prices. Three quarters of all laboratories (76 per cent) are already experiencing rising price pressure in their daily work.
The outlook for 2022
According to the experts, the situation of the last two years is set to continue in 2022. Many universities, clinics, institutes, laboratory service providers and pharmaceutical companies want to prevent this by stocking up on sufficient material. According to the Starlab survey, half of the laboratories want to build up material stocks in view of further peaks in the future. This could become difficult, however, because the demand for materials continues to increase at the same time. Some 29 per cent expect up to 25 per cent higher material requirements in 2022, while three per cent even anticipate an increase of up to 50 per cent.
Along with a shortage of materials, there is also a lack of skilled personnel. Some 17 per cent of the survey respondents said they see staff shortages in the current year as a challenge, while eight per cent fear that skilled staff will overwork themselves.
Explaining Starlab's approach to dealing with the current challenges, Mrs Fane de Salis said: "We are doing our best to supply to all our existing customers, as we are convinced there could be an even greater crisis for mankind if we stop supplying to other fields of research such as cancer research, molecular research, and multi-germ resistance research.
"During the first period we did not take on any new customers or expand our portfolio in new countries."
To access the survey questions and answers, click here.