ED&I in the UK Life Science Industry
Research into the matter of equity, diversity & inclusion (ED&I) in the UK Life Science Industry was carried out in 2020 by the Science Industry Partnership (SIP). The report combined survey responses with national data sources and collected data August-October 2020 from 72 companies across an estimated 140,000 employees.
Image: While equality demands everyone is treated the same, equity means everyone is provided with what they need to succeed.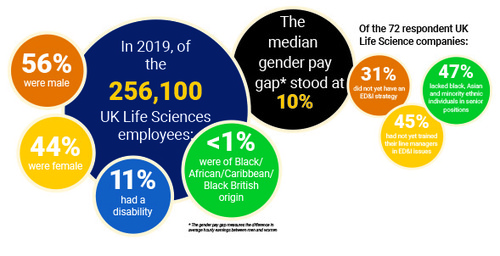 References
1 Life Sciences: Equality, Diversity & Inclusion Report, Science Industry Partnership (SIP), Cogent Skills
2 Office for Life Sciences: Bioscience and health technology sector statistics 2019
3 Data Accessed: 'Reporting Year 2019-20' [https://gender-pay-gap.service.gov.uk/viewing/download]
4 Office for National Statistics: Labour Force Survey 4 Quarter Average, 2019