Award winner: Partnership and sustainability win emerging technology award
As we begin to look forward to the inaugural Lab South spin out event, Lab Innovation's 'Most impactful emerging technology' Lab Award winners, Appleton Woods and Manchester BIOGEL, look back at their first post-pandemic face-to-face event and how sustainability was at the forefront of their success...
Lab innovations is the UK's biggest trade show for all things science and research and after a year of huge scientific breakthrough's we were proud to be exhibiting. Keen to attend Lab Innovations 2021 after a year of uncertainty we looked forward to finally enjoying some light at the end of the tunnel!
At the show, the atmosphere was buzzing, and everyone was thrilled to see both old and new faces and many ground-breaking products on stands. Ours was a shared stand. Appleton Woods partnered with Zeiss Microscopy, a leading microscopy company since 1846, and Manchester Biogel, a new and innovative peptigel company, to welcome customers and showcase featured products. Each of our offerings shared a focus on emerging technological innovations based on environmental considerations, from energy efficiency and animal-free materials to waste recycling.
Environment and animal friendly
The Zeiss team led the way, exhibiting a range of microscopes from their latest range of Axiolab instruments. They displayed mouse membranes on the big screen, giving visitors the opportunity to demo the microscopes first hand and ask questions that kept our microscope specialist, Dr Mark Perkins, on his toes.
"This year we had two microscopes on display. We aimed to showcase the interesting features of both the microscopes and their cameras. We were particularly keen to demonstrate the built in ECO mode, which aims to reduce energy usage. Both systems also incorporate a Wi‑Fi adaptor that allows their cameras to connect wirelessly to a tablet," said Mark.
The Manchester Biogel section of the stand demonstrated the importance of redefining cell culture for life sciences with their new peptide hydrogels. These are optimised for 3D bioprinting, are regularly used in tissue regeneration and drug discovery, and avoid the use of animal products.
Free flowing doughnuts and lab waste recycling
The day was incredibly busy. Doughnuts were free-flowing and as our own Appleton team engaged with customers, visitors, and keen scientists in discussions around our own products and services. Many visitors came to get hands on with the appPETTE's. We offer both single and multi-channel pipettors. And, with sustainability high on everyone's agenda, there was great interest in our centrifuge tubes with eco-friendly cardboard racks and our appCYCLE service, which is pioneering straightforward lab waste recycling.
Most impactful emerging technology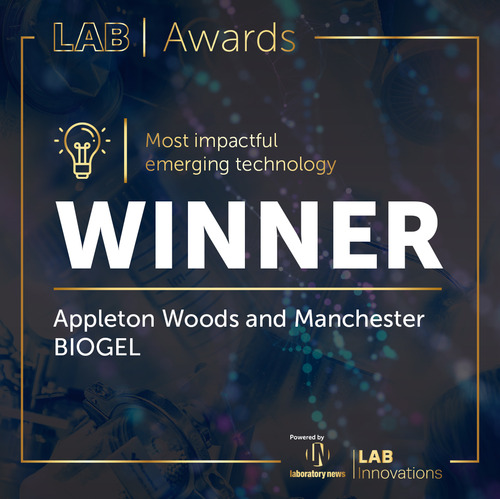 As the day drew to a close customers and exhibitors gathered around the Awards Pavilion to find out who had won the inaugural Lab Awards. The Appleton Woods team were elated following the announcement that, with their partners from Manchester Biogel, they had won the 'Most impactful emerging technology' award for the synthetic Peptigels.
The Manchester Biogel team said: "We are so pleased to announce that our peptide Hydrogel technology has been recognised as the 'Most impactful emerging technology' at Lab Innovations 2021. Well done team!"
Everyone at Appleton Woods was proud to have shared this prestigious win for a product that is truly innovative and looks to change the course of science for those who are serious about going animal-free.
Author: Tania Chand is Digital Marketing Executive at Appleton Woods, appletonwoods.co.uk