Construction robotics - research and innovation from China
While advances in robotic automation have revolutionised manufacturing over past decades, assembling a wide range of everyday items from vehicles to consumer electronics, we have yet to see a similar breakthrough in the construction industry and the process remains highly labour intensive. Professor Darwin Lau shares insights into his work on construction robotics and how new innovations might reshape the building sites of the future while opening exciting new possibilities in architecture and design.
The least discussed but most powerful benefit of robotics and automation in construction is the unlocking of design possibilities.
Video: Portable Cable-Driven Parallel Robot for Brick Building Construction
Q: What is the state of robotics in the construction industry today? Why have we not seen robots applied to the extent seen in other industries?
Industrial robots began making headlines in the 1960s with the unveiling of the robotic manipulator "Unimate", paving the way for full automation of production lines. Today, the number of industrial robots in use globally has tripled over the past two decades to 2.25 million. Yet the construction industry has yet to embrace this trend. In some ways, the mode of construction today is not so different from that used decades or centuries ago.
There are a number of challenges that explain this slow pace of change.
Firstly, industrial robots tend to operate in well-defined, predictable indoor settings, confined to an assembly line with a fixed job. Meanwhile, construction sites are unpredictable and filled with surprises. Work has to be done in extreme and often frequently changing conditions, whether dry, dusty or wet, hot or cold, in enclosed or open spaces. Developing a robot that can adapt to these varying conditions is challenging and costly.
In addition, there are established regulations and complex procedures in place that ensure the quality and safety of construction work. Workers are required to have professional qualifications, and legal liabilities are clearly stipulated in contracts. If a robot replaces a human worker, how can these requirements still be met? This raises ethical and legal questions that are yet to be addressed.
And third, there is the complexity of the tasks involved. Constructing a building often requires hundreds of tasks in numerous phases. Moving from a robot capable of one task to a system that can automate and manage the whole process necessitates further research into developing the necessary process flow.
Q: What are some of the advantages that construction robots could bring to the building industry?
It is indisputable that automated robotic systems help reduce production and labour costs. Meanwhile, the industry is facing multiple challenges, from safety to costs, an aging workforce and tightening environmental regulations. It is therefore important for the long-term to identify where and how robots can be incorporated into construction practices.
When it comes to worker safety and labour shortages, the median age of workers in the industry is rising, and a construction worker has a 75 percent likelihood of experiencing a disabling injury and a 1-in-200 chance of being fatally injured on the job over a 45-year career. Robots could hopefully take on the most high-risk tasks, like demolition or work at heights, and solve shortages in specific skilled tasks.
Of course, robots can also work 24/7. They do not fatigue, avoid the associated risks of errors or inconsistencies, and avoid the risk of making dangerous mistakes. That precision is invaluable.
Q: What impact could robotics have on architecture and building design?
The least discussed but most powerful benefit of robotics and automation in construction is the unlocking of design possibilities. Incorporating interesting shapes and complex brick structures is often limited in architecture due to conventional and labour-intensive manufacturing processes. Fully automated robotics demonstrate how more complicated structures could be precisely constructed, without necessarily increasing the development costs, opening up exciting new design ideas in the foreseeable future.
In 2017, our research team from the Faculty of Engineering and Professor Adam Fingrut from the School of Architecture presented a cable-driven robot named "CU-Brick" that used jenga blocks to build. The irregular structure of buildings means each block has to be placed precisely, with little margin for error. To achieve this, the system consists of a gripper end-effector and the cable actuators can be mounted on a range of different environments, from metal frame structures to the walls and roofs of buildings. Its design is performed through developed intelligent software and it will then automatically generate the structure to be built, while remaining within the operational region of the robot and determined parameters such as the number and location of bricks.
We are currently working on the fourth generation of the "CU-Brick" system in its first on-site pilot project. Taking the research prototype out of the laboratory, this project will see the robot develop a single-storey brick structure using up to ten thousand bricks, using real construction materials and workflow. This project showcases the workflow advantages of precision robotic construction linked to computational design solutions, ultimately demonstrating how robotics can help realise the architects' dream, with endless possibilities in design concepts.
Q: What other forms could construction robots take in the future?
Robotic technology is an indispensable opportunity when discussing the future of construction and architecture. Our work at CUHK has explored several approaches to the application of robots in tackling specific construction tasks. We are also currently researching the use of cable-driven robots in the cleaning of sedimentation tanks, high-rise façade operations robot that can work at height to handle window cleaning, painting and repair work, and even the operations for constructing bored-pile building foundations. This can help create a safer work environment for humans, enabling them to focus on other tasks.
While a fully automated construction site may be a distant dream, automation and teleoperation for many individual tasks at construction sites are absolutely feasible within the coming 10 to 20 years.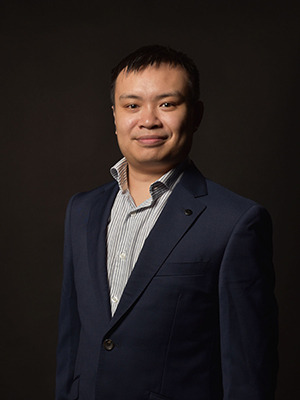 Author: Professor Darwin Lau is Associate Professor of the Department of Mechanical and Automation Engineering at The Chinese University of Hong Kong (CUHK) cuhk.edu.hk/english/