Lab Awards 2021 Winners
Congratulations to the winners of the inaugural Lab Awards 2021!
The awards were brought to you by Lab Innovations in partnership with Laboratory News and presented during the first afternoon of the recent Lab Innovations event. The award ceremony was sponsored by Analytix and offered a wonderful opportunity to celebrate just some of the incredible achievements accomplished by laboratory professionals and service teams during what have been incredibly difficult circumstances over lockdown.
Photo: SciMed UK win the best stand award for their scalextric track on stand D32
We look forward to publishing more in-depth editorials covering the winning projects in both print and online over the coming year. Meanwhile, here is a short overview of the winners:
Collaboration category
Most impactful collaboration with academia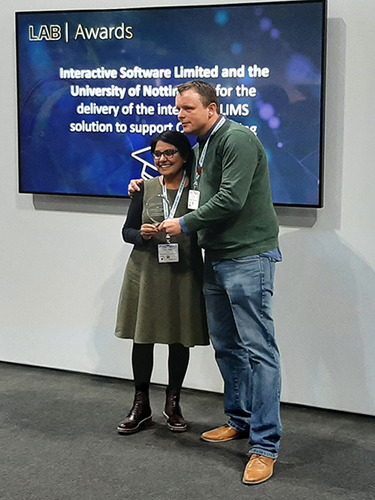 WINNERS: Interactive Software Limited and the University of Nottingham for the delivery of the integrated LIMS solution to support COVID testing
For the successful working partnership between Interactive Software Limited and the University of Nottingham that delivered an integrated LIMS solution to support COVID testing in the university and wider community within weeks. This allowed the University of Nottingham to respond quickly to the pandemic and provide swift turnaround of testing of its staff and students. The University is the first to be accredited as a COVID-19 testing laboratory.

Sandie Shokar, Director, Interactive Software Ltd.
The success of the University's testing process supported by Achiever Medical LIMS has led to the University being recommended for accreditation from the government to allow its unique non-invasive saliva testing process to be simplified and sped up by removing the need for a second confirmation NHS test.
Most impactful collaboration with the public sector
WINNERS: The CliniSys Group for the SI-DEP project
The Clinisys Group provided the IT that lies at the heart of SI-DEP – France's national Covid-19 screening platform.
The speed of ramp up of this highly accurate new service was hugely impressive. The work that has been done to get vaccines out to the public in the UK has been widely recognised as a brilliant success, but Clinisys' software systems made it possible to join up the labs and the GPs in record time to cope with the huge upswing in demand for tests. This UK based company is exporting it's know-how throughout Europe, improving health services for hundreds of millions.

Jacquline Balian, Head of Laboratories, Test and Measurement Sectors at GAMBICA
The SI-DEP project went live on 13th May 2020, handling some 50,000 test results per day in the early stages. Over time, this has gradually grown to more than 1,000,000 daily tests, and the number is due to increase further.
Most impactful collaboration with industry
WINNERS: The Francis Crick Institute (The Crick) in collaboration with Bywaters
The partnership has made lasting contributions to The Crick's operations, that fully resonate with their ideology. Together they have completely overhauled the waste management programme – floor by floor – achieving zero waste to landfill and making The Crick the only research facility in London to compost uncontained animal bedding and to send laboratory offensive waste to energy recovery.
The successful collaboration with our industry partner Bywaters our resource management specialists, has enabled the Francis Crick Institute to achieve waste solutions, increase recycling and reuse significantly.

Rajnika Hirani, Head of Sustainability, The Francis Crick Institute
Innovation category
Most impactful consumable innovation
WINNER: ESSLAB for its Inorganic Ventures Transpiration Control Technology (TCT™)
Inorganic Ventures Transpiration Control Technology significantly extends the shelf life of these essential Certified Reference Materials [CRM's], improving efficiencies - at the same time minimising waste.

Cliff Marshall, Managing Director, ESSLAB
TCT™ Technology extends shelf-life to a unique and industry-leading four years for Stock CRM's and five years for Custom CRM's. Extended shelf-life ensures rapid on-time delivery to all customers, enabling them to schedule, stock and use CRM's while minimising stock-outs and wastage. This technology also enables on time analytical results reporting.
This product limits transpiration from certified reference material, extending their useful life and reducing costs to users.

Jacqueline Balian, GAMBICA
Most impactful laboratory informatics solution
WINNER: The CliniSys Group for the SI-DEP project
Having had such an impact on France's national Covid screening programme, we believe The Clinisys Group deserved this second award in addition to the Most impactful collaboration with the public sector award detailed above.
Most impactful emerging technology
WINNERS: Appleton Woods and Manchester BIOGEL for Peptigel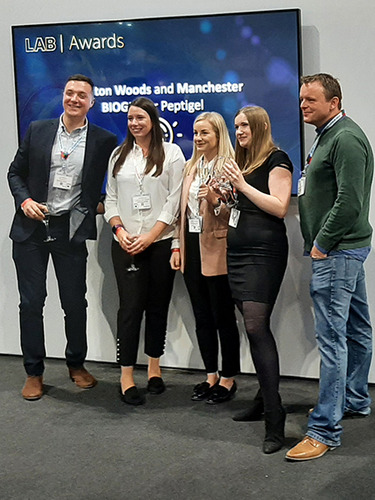 Manchester BIOGEL's peptide technology for applications within cell culture, bioprinting and drug discovery are disrupting the cell culture market, supporting more ethical and reproducible research. They are helping to bring the in vivo to the in vitro.
Appleton Woods has partnered with Manchester BIOGEL to be their exclusive UK distributor of the ethical and sustainable Peptigel product range. Like Appleton Woods, Manchester BIOGEL is an SME with similar values to our company…[]…To know supply won't be an issue, when we have seen huge product shortages with competitor products over the past year, is a huge benefit as it means that vital research can continue without the risk of having to stop due to product shortages.

Stewart Sale, Business Development and Product Manager at Appleton Woods
Most impactful laboratory research model or simulation
WINNER: Shimadzu UK Ltd for the Advanced i-Series UHPLC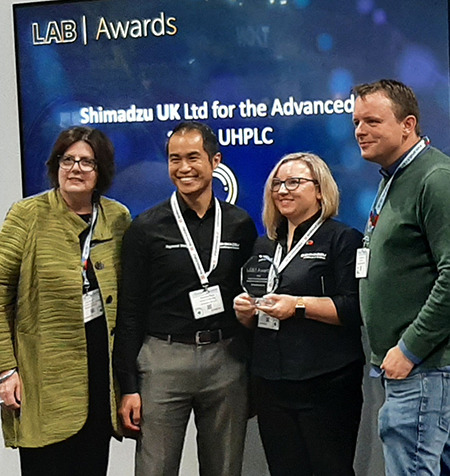 In 2020, due to the pandemic sweeping the nation; analytical laboratories required the ability to minimise personnel required to attend instrumentation but, maximise automation and remote working.
In 2020, the pandemic hit society very quickly…[]…Research laboratories needed to evolve to continue to function but, needed to operate with limited staff to minimise the chance of spreading infection. The Advanced i-Series was the solution to support analytical laboratories around the world by providing intelligent instrumentation with better automation, remote access, and analytical intelligence. It is the first UHPLC series designed to support remote workstyle, keeping the safety of scientists, researchers, and laboratory staff at the heart of its design.

Anna Cooper, UK Marketing Manager at Shimadzu UK Limited
Sustainability category
Most impactful sustainable process improvement
WINNER: CAMLAB for reduction of CO2 emissions across the board
I am nominating CAMLAB for the most impactful sustainable process award because of they have taken a lead in making their own business sustainable and in encouraging staff to recognise the importance of sustainability not only to them, but to their customers.

Jacquline Balian, Head of Laboratories, Test and Measurement Sectors at GAMBICA
The company decided in 2013 to reduce CO2 emissions from its activities both to play its part in combatting climate change and to encourage staff to assist customers who wished to do the same. Like many SMEs using leased accommodation, opportunities for wholesale change were limited so it was decided to concentrate on four key areas, energy use, company cars, other business travel and waste.
Most impactful sustainable product development
WINNER: Scientific Laboratory Supplies for Jellagen
Ethically and sustainably sourced from Jellyfish. This collagen-based, disease, vector and BSE free product is an alternative to rat tail collagen.

David Zaborowski, Marketing Manager at SLS
Jellagen is a marine biotechnology company manufacturing marine-sourced Collagen Type 0 for medical and scientific research applications. The organisation's main objective is to create sustainable sources for critical biomaterials which do not carry the environmental and human health risks of traditional collagen sources. The Jellagen product is derived from Jellyfish (Rhizostoma pulmo).
This product provides a big step forward in reducing the use of plastics in laboratories. I can see it being hugely popular with scientists and sustainable procurement teams.

Jacqueline Balian, GAMBICA
Most impactful sustainable waste management improvement
WINNER: Starlab UK for its long-range waste minimisation journey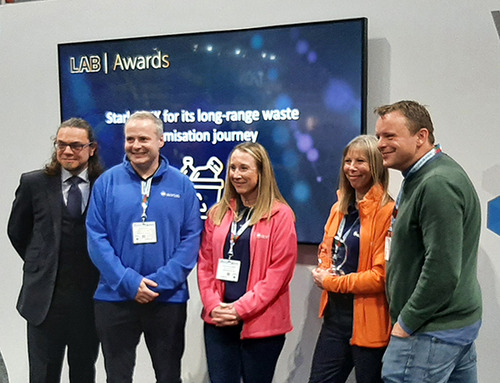 Laboratories produce a massive amount of plastic waste, and Starlab's eco-conscious customers love the idea that the plastic packaging from their pipette tips is recycled and reused. Over 60% of customers who use TipOne take part in the scheme.
I am nominating Starlab UK because they have been on a waste minimisation journey since 1998 and have consistently helped improve the waste performance of their customers since then. They have found ways to minimise the amount of plastic used in their pipette tips and racks, switched their materials to contain only recyclable polypropylene, and in 2002 introduced a recycling collection service to ensure that the waste from their products does not go to landfill.

Jacquline Balian, Head of Laboratories, Test and Measurement Sectors at GAMBICA
People category
Most impactful online or print training resource
WINNERS: The team at Anthias Consulting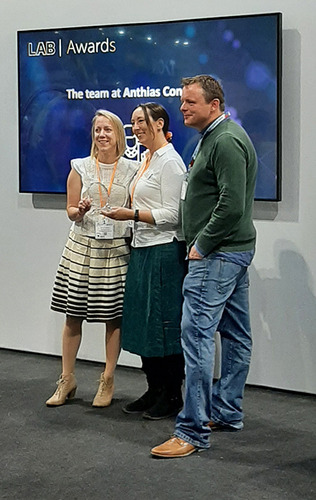 I am nominating our team at Anthias Consulting for transitioning to online training at the start of the Covid-19 pandemic. The training has received excellent feedback from attendees throughout and has continued to be successful 16 months after it was first launched.

Alana Thompson, Website & Marketing Manager at Anthias Consulting Ltd.
With delegates unable to travel from overseas and travel restrictions within the UK due to the Covid-19 pandemic, Anthias quickly adapted their CPD analytical training courses to online delivery and launched their first live scheduled Virtual Classroom training course in April 2020. During and between national lockdowns, many analysts' work patterns saw them alternating working from home and in the laboratory. Some analysts needed training across multiple techniques to rapidly get up to speed in other techniques used in their lab. The ability to attend an RSC-approved training course virtually meant they could access the training when working from home.
Most impactful F2F training
WINNERS: The trainers at Anthias Consulting
I am nominating our trainers at Anthias Consulting for delivering onsite face-to-face training throughout the Covid-19 pandemic, supporting analysts across the UK with hands-on instrument and software training, method development and troubleshooting.

Alana Thompson, Website & Marketing Manager at Anthias Consulting Ltd.
Throughout the past 16 months, the Anthias team have delivered onsite training across the UK, continuing to support analysts with hands-on instrument hardware training, software training, method development and optimisation, method validation and troubleshooting. Anthias has provided a valuable training resource for customers to be able to continue to access face-to-face training throughout the pandemic.
Most impactful health, safety, and security development
WINNER: Zoe Andrews from Harvey's Gang
Harvey's Gang encourages & helps empower and reduce fear for ill children by providing tours of the blood transfusion, Haematology, Blood Sciences, and other laboratories. In honour of Harvey Buster Baldwin. Now in 94 laboratories
Harvey's Gang educates, empowers young patients by giving the young patient a tour of their Pathology Laboratory. Zoe managed to develop Harvey's Gang tours in Guernsey, despite the global pandemic. Zoe is a remarkable young lady and has done so much for her laboratory and Harvey's Gang and their young patients in the hospital. Her daughter, Harriet, designed Christmas cards that Zoë then got made and sold to raise money for Harvey's Gang.

Malcolm Robinson, Founder of Harvey's Gang
Special category
Pandemic response award
WINNER: The Francis Crick Institute (The Crick)
In March 2020, the UK went into a national lockdown due to the SARS-CoV-2 (COVID-19) pandemic. The Francis Crick Institute (a biomedical research institute dedicated to the discovery of the biology underlying human health) responded to this by repurposing its staff and infrastructure to create an accredited, active COVID-19 testing pipeline in just under two weeks. A vaccination centre was established in January 2021. The reaction of The Crick to the pandemic has shown how moving with agility and common purpose with others can provide an invaluable 'one stop shop' resource to the public in the face of a crisis such as this, and can influence government pandemic response policy.

James Macrae, Head of Metabolomics at The Francis Crick Institute
To provide a validated, accredited virus testing centre, a partnership between the Crick, UCLH, and Health Services Laboratories (HSL, a UKAS-recognised clinical diagnostic laboratory) was created. Since the start of the pandemic, The Crick has performed ~600,000 nasopharyngeal swab tests (as well as DNA sequencing of positive samples to track modes of infection and variant prevalence), developed a serology (antibody) testing pipeline and a neutralisation assay to determine antibody load & efficacy, and created a vaccination centre (administering 80,000+ vaccines).
The Crick team showed the kind of agility that is necessary in moments of crisis. Their agility and expertise combo led to outcomes that saved many lives and enabled the restoration of many more.

Harriet Gould, The Royal Society of Chemistry
[This entry showed]…real evidence of altruistic response to pandemic pressures; volunteer staff, process to avoid use of stretched resources, faster than light lab and process set-up, knowledge sharing through publications etc.

Richard Surma, AstraZeneca
Best stand award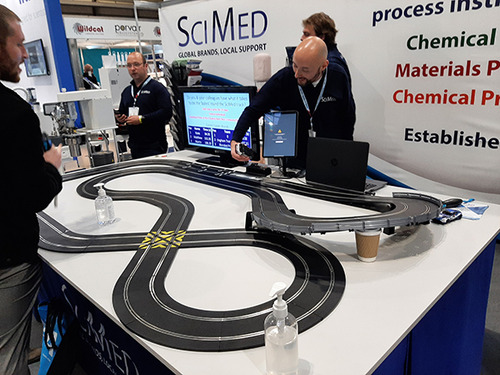 WINNERS: SciMed on Stand D32
Judged on site at this year's Lab Innovations event, the winning stand drew in visitors with a full Scalextric track and the opportunity to spend a few minutes being a big kid. When asked if there was a link between the game and the company's core services distributing analytical and process instrumentation for chemical analysis, materials properties, and chemecial processes, the team simply said, 'Fun!' before qualifying that by explaining that they do work for Formula One racing... but let's face it, fun is the best reason possible.