Celebrating 50 years with the mother of 'ELISA'
In an exclusive interview with Dermot Martin, Eva Engvall discusses the invention and evolution of enzyme-linked immunosorbent assay (ELISA), the fifty-year old analysis technique that sits at the heart of COVID testing kits.
"Eva is a scientist's scientist but she has never pursued the spotlight. This could explain the lack of awareness of this important woman innovator, whose ELISA creation could well be considered Nobel Prize material."

Nancy Beddingfield, ex-colleague from SBPMDI
Beyond a close knit community of immunologists few people will have heard of Eva Engvall, yet the world certainly owes the Swedish biochemist a huge debt of gratitude.
As we struggle to overcome the pandemic, Eva and a diminishing band of colleagues, deserve greater recognition. She was a pathfinder of the test system that changed the way we track and identify viruses - ELISA or enzyme-linked immunosorbent assay.
Vaccines are the big guns against COVID-19, but ELISA is the biological enigma machine that nails its ID code. Eva, now in her eighties, was both participant and witness at the birth of this vital analytical technique. As one former-colleague has said: "Eva is the scientists' scientist" who ought to be considered for the highest honour".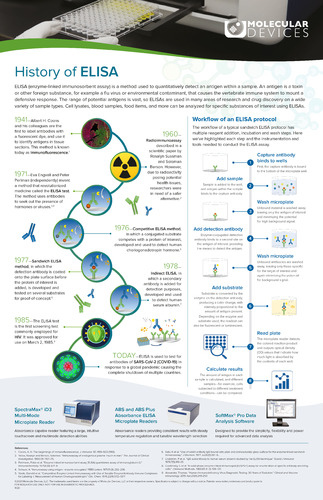 Image: Molecular Devices ELISA Infographic
Early days
Enzyme-linked immunosorbent assay is ubiquitous for identifying COVID-19 but no-one could have foreseen in 1971 how important it would become. ELISA made its debut in the Swedish lab where Eva began as a young researcher. She is too modest to claim all the credit for devising the technique but she was honoured some years ago in Germany for being a midwife at its birth. Today she's happy to reflect on how five decades ago she was the first person to use the acronym ELISA.
DM: You've contributed to the understanding of diseases like malaria, muscular dystrophy and cancer. But it's your early work on enzymes which led to the creation of ELISA. Today, it is such a force in tracking COVID-19. How proud does it make you feel?
EE: I am amazed that ELISA is still used so extensively – even in the art world. I would have expected after all these years, the enzyme-linked assay would have been completely replaced by something else. Maybe one of the best things I did when we created ELISA was to give it the name. Major credit should go to the late Professor Peter Perlmann; my fantastic research leader at the time.
DM: What do you remember of those days in the laboratory?
EE: I'd had a job at KABI pharmaceuticals doing a variety of projects. One was to try to purify an enzyme. That led me to delve a little deeper to understand more about these odd biochemicals.
The company made blood products such as immunoglobulin, albumin, and factor VIII. But the people working on those products didn't seem to know anything about immunology. I thought knowledge of immunology was essential for anything that is injected intravenously.
At that time, pharmaceuticals industry research projects began lower down the chain and control and outcomes were decided by the company hierarchy. One day, I decided I had had enough. I quit and decided to study immunology properly with like-minded people.
This may sound odd today but I went to Lund University and knocked on Peter Perlmann's office door. Well his door was always open, so I only knocked on the door frame. Imagine doing that today. I wasn't fazed by the fact he was chairman of the department of Immunology. I just asked if I could work in his department.
DM: How did Prof Perlmann inspire your work?
EE: He soon realised that I knew something about enzymes. He said he had a project for me - an idea about using an enzyme instead of expensive and awkward radioactive isotopes for quantitative immunoassays. Back then enzyme labelled antibodies were only being used in immunohistology, not for quantitative assays.
He called up Pharmacia, the company where he held a position as its scientific consultant. He asked if they would pay my salary. They agreed.
DM: That turned out to be a worthwhile investment! What happened next?
EE: I absorbed knowledge of immunology and developed skills in quantitative immunoassays using Pharmacia's radioimmunoassay kits and found ways of substituting radioactive isotopes with specific enzymes which open the door to colour signals. One day, I came up with the name for what we described as future quantitative enzyme immunoassay enzyme-linked immunosorbent assay, ELISA. It stuck.
Attacking cancer
DM: You became a researcher into range of diseases and medical conditions at the Sanford Burnham Prebys Medical Discovery Institute. California. How did the early success of ELISA shape your research on monoclonal antibodies applied to diseases such as cancer malaria?
EE: I wanted to use ELISA as a tool for something useful. In the mid-seventies, oncofetal proteins and cancer diagnosis was in vogue; CEA [carcinoembryonic], AFP [antigen and alpha fetoprotein], and such. I was particularly interested in placental proteins and their potential appearance in tumours.
After learning how to make monoclonal antibodies, I wanted to use that technology with ELISA to discover new proteins, particularly connective tissue proteins. At the time, connective tissues and basement membranes (a matrix of glycoproteins) were thought to be the same in all tissues. I didn't believe it.
DM: In 1988 you discovered the basement membrane protein merosin which led to vital understanding of MS. Can you tell me more?
EE: Merosin was expressed in basement membranes of skeletal muscle and peripheral nerve. I wondered what would happen if there was a mutation in the merosin gene. This led to the discovery of the second most common form of muscular dystrophy, congenital muscular dystrophy.
Then there was work on gene therapy in mice and I collaborated with many physicians and vets in diagnosing and characterising muscle disease. Only recently an obscure protein that we discovered with monoclonal anti bodies, CPAMD8, was just found to be mutated in some disease but I forget which. [Autosomal-Recessive Anterior Segment Dysgenesis]
Credit due
DM: Now you are back in Sweden retired with your partner of more than forty years, Erkki Ruoslahti himself a celebrated cancer researcher the fact that ELISA is such an important part of testing and tracing. Did you manage to patent any aspects of the system?
EE: There were others who deserve credit. The Dutch bioscientists Anton Schuurs and Bauke van Weeman and Alistair Voller with whom we took ELISA to Africa to look for mararia antibodies. I have lost touch with Alistair and others but the memories of the work in Africa are still fresh. At the time I was a salaried researcher. There was no opportunity to apply for patents.
DM: It must be satisfying looking back on such a wide ranging career with ELISA at its core? How's retirement?
EE: Perhaps the biography of ELISA will be written one day. I've been collaborating on a book due later this year about the amazing work on at The Sanford Burnham Prebys Medical Discovery Institute and as a dog lover my main hobby in retirement is breeding whippets.
DM: Why whippets?
EE: They are beautiful and their genetics is quite fascinating.
DM: There speaks a woman with science in her DNA. Both Sweden and the world ought to acknowledge her more.
I spoke about Eva to another ex-colleague from SBPMDI, Nancy Beddingfield.
Nancy said: "Eva is a scientist's scientist but she has never pursued the spotlight. This could explain the lack of awareness of this important woman innovator, whose ELISA creation could well be considered Nobel Prize material."
Gustav Kallstrand senior curator at the Nobel Museum in Stockholm said any discussions about Eva Engvall's work will be classified and committee members keep secret their deliberations.
The fact that someone is Swedish does not increase or diminish their chances for the prize. Any problem the Nobel committee might have in Eva's case would be in deciding if the prize should in the Chemistry or Medicine category.
References
https://www.pnas.org/content/85/5/1544
https://www.sbpdiscovery.org/magazine/along-the-road-to-discovery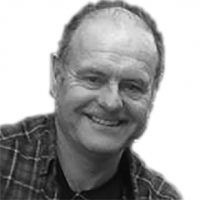 Author: Dermot Martin is a science journalist with a special interest in the life sciences and techniques for analytical chemistry