Get ready for Lab Awards 2021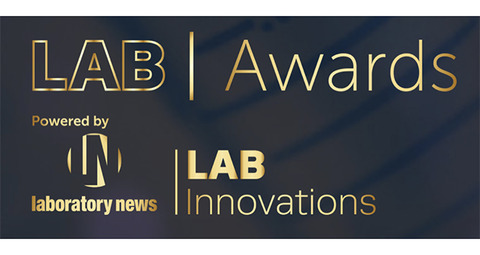 Brand new in 2021, the Lab Awards will be taking place at the ICC in Birmingham on the evening of November 3, 2021 — the first night of Lab Innovations. The awards, brought to you by Lab Innovations in partnership with Laboratory News, are a much-anticipated event that highlights the key achievements of the laboratory industry, recognising the incredible work of individuals, suppliers and projects. With the leading brands in the industry set to attend, Lab Awards isn't an event to be missed.
New for 2021, the Lab Awards are being hosted by Lab Innovations in partnership with Lab News.
The Lab Awards are an opportunity to recognise the achievements made by the leaders of the lab industry, generating increased awareness about the latest key innovations and projects. There will be several awards that are distributed between five categories: Collaboration, Sustainability, Innovation, People and Special. Examples of the awards up for grabs include the most impactful collaboration with academia, the most impactful sustainable process improvement and the most impactful emerging technology. Winning one of these prestigious prizes will highlight you and your business as industry leaders, shining a spotlight on the best products, services and initiatives in the lab sector.
"Laboratory News is honoured to put its name to Lab Awards 2021 and we are very excited to be working with the Lab innovations team to create this much needed annual celebration of the best in collaboration, sustainability, innovation and specialist projects across the laboratory sector," explained Sarah Lawton, editor at Laboratory News. "We are aiming for the highest level of integrity throughout, with all entries carefully reviewed by expert judges. The short-listed nominees and winners will enjoy the prestige associated with being recognised as an industry leader."
"Not only is this going to be a fun night of celebration, but it will also be a much-needed opportunity for businesses and individuals to network with the best community of scientific and lab professional and companies after such a long time apart," added Aleiya Lonsdale, Head of Marketing at Lab Innovations.
Sponsorship of the Lab Awards is also available to businesses in the sector, and offers vital networking opportunities with hundreds of professionals across multiple sectors of the lab industry. The prestige that comes with picking up a prize at Lab Awards will highlight the winner as a leading name in the industry.
Details on submitting your entry and how to become a sponsor can be found by visiting the Lab Awards website. Submissions close on August 20, 2021, and places are filling up fast so book your place now to ensure you don't miss out.