New report recommends antibody testing within the Covid-19 vaccination programme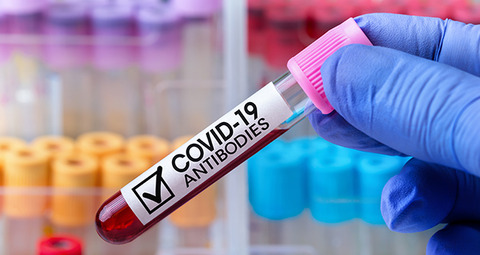 Antibody testing can be used to identify the minority of people who have a sub-optimal response to Covid-19 vaccination, this is estimated to be up to 10 per cent of the population. The UK Department of Health and Social Care (DHSC), upon advice from the Joint Committee on Vaccination and Immunisation (JCVI), recently announced those most vulnerable to Covid-19 could be offered a booster vaccination as early as September 2021.
Following this, a new report from Public Policy Projects (PPP), in partnership with Siemens Healthineers, considers the potential antibody testing holds in increasing the efficiency of the Covid-19 vaccination programme, as well as barriers that currently exist. The report recommends academics, public health, NHS personnel, and industry, collaborate to utilise antibody testing to determine booster vaccination prioritisation.
Outside of the announced intention to provide booster vaccinations to over-50s in the Autumn, further vaccinations could be offered to those who respond sub-optimally that fall out of this group to protect against infection with Covid-19. This approach could ensure higher levels of antibodies in the overall population, than would exist if a solely age-centred prioritisation approach was taken.
The report, follows an evidence session, chaired by Professor Lord Darzi of Denham, Director of the Institute of Global Health Innovation at Imperial College London and attended by leading immunologists, Public Health England and the DHSC.
The report identifies series of key recommendations which include:
Antibody testing should be regarded as an investigational tool, useful for population surveillance and testing those at risk of a sub-optimal vaccine response.
Measuring antibody levels post-vaccination to determine eligibility for a booster vaccination has been proposed as a vaccine-sparing targeted strategy. The appropriateness of this approach needs urgent consideration.
The UK should encourage a global effort, including bodies such as the Centers for Disease Control and Prevention (CDC) and the G7 countries, to work on developing Covid-19 antibody standards as a matter of urgency.
The Rt Hon Stephen Dorrell, Chair, Public Policy Projects said:
It is clear that further work should be taken forward by the Government to appraise the potential of utilising antibody testing as part of the ongoing Covid-19 vaccination efforts. A move towards greater precision when deciding who receives a vaccination, and when, could potentially save lives and support us to more effectively tackle Covid-19 in years to come.
Business Lead for Diagnostics at Siemens Healthineers GB&I, Stewart Hutton stated:
The successful roll out of the Covid-19 vaccine is to be celebrated. In light of the ever-changing nature of the pandemic, however, government-led immunity surveillance is key to seeing sustained benefit. The introduction of antibody testing could inform both present and long-term vaccine strategies - measuring immune response, monitoring vaccination effectiveness and informing booster or re-vaccination plans to best allocate NHS resources.