Real milk, real cheese - no cows required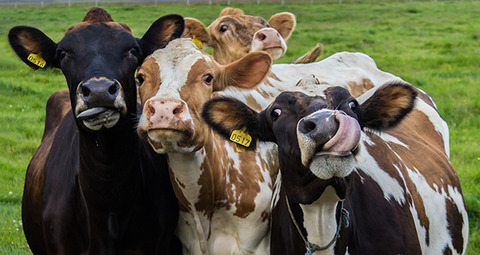 Will 'animal-free' AI driven processing replace 'plant-based' dairy products? An Israeli start-up is applying AI to precision fermentation to artificially brew the whey and casein proteins that make up real milk and milk-based products. While not plant-based, this animal-free production process could meet the requirements of the vegan market and potentially transform the dairy industry.
In the past few years there has been a huge spike in demand for vegan products. Once regarded as a fringe or fad diet, veganism has now become increasingly mainstream. More and more people are interested in cruelty-free substitutes for previous staples such as meat and milk.
The latest development in this field from an Israeli start-up could however completely transform the dairy industry.
Imagindairy, Ltd is the latest company to enter the vegan milk space, competing with popular alternatives such as soy, almond and oat. However, unlike those vegan substitutes, Imagindairy's product is not derived from plants, but made from the same proteins as actual milk.
The start-up, which was founded in 2020, uses AI to manage a technique called "precision fermentation." This process involves the brewing of single-celled organisms that have been specifically designed to create individual compounds. In the case of Imagindairy, the compounds made would be the whey and casein proteins that are traditionally derived from milk - without the use of cows.
There are multiple benefits to this new method of production. As well as the benefits associated with veganism, such as lower impact on the environment and cruelty-free production, Imagindairy's products could also be seen as an improvement on vegan substitutes currently available. For example, the whey and casein proteins will enable the company to re-create the natural flavour and texture of cheeses in a way that other vegan ingredients struggle to. In turn, this could help persuade more people to try vegan foods.
If Imagindairy is successful, it could also capture a significant portion of the increasingly valuable vegan milk market. The plant-based milk sector is worth $2.5 billion just in America, let alone worldwide.
Imagindairy was co-founded by its CEO, Eyal Afergan, who is a graduate of the Technion – the Israel Institute of Technology. Since 1912, the academic institution has been at the forefront of spearheading Israel's scientific endeavours. Israel today is the country with the highest percentage of scientists and engineers – and the majority of them studied at the Technion, home to three of Israel's five science Nobel Laureates.
Alan Aziz, CEO of Technion UK, commented: "Up until now, the vegan sector has focused on trying to find the closest alternatives to everyday dairy products. But it turns out that the best substitutes for milk and cheese are just milk and cheese – minus the cows. Technion isn't trying to milk the news of another revolutionary start-up created by one of our graduates, but we are proud to see a former student yet again set on transforming the way we live our lives."