UKRI funding to bring the public into the heart of five research projects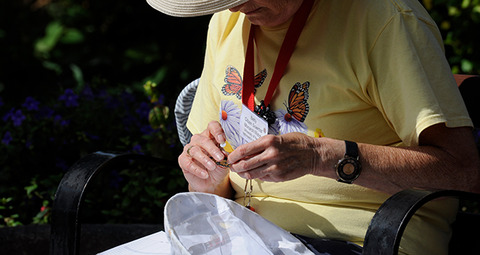 UK Research and Innovation is encouraging people from across the UK to actively contribute to five groundbreaking research projects. By pledging support for citizen science and citizen led research and investing £1.46M in citizen science awards across five projects UKRI is keen to lift the veil on research and help the public to actively engage with the research that shapes their lives and this landmark investment is an important step towards doing this. These exciting research projects will yield new insights into timely issues such as plastic pollution and mental health.
UK Research and Innovation (UKRI) is investing £1.46M in five research projects where the public are directly involved in the research process. Researchers and the public will work collaboratively to reshape our understanding of important issues such as mental health and airborne microplastics.
The projects will involve collaborations between a diverse range of organisations including:
universities
museums
arts organisations
city councils
mental health charities
grassroots community groups
These collaborations will generate valuable new insights by bringing the knowledge and expertise of the public together with that of researchers working in these areas. Participants will also be able to develop new skills and knowledge that they will be able to apply elsewhere.
Members of the public will be actively involved in conducting the research from the start, working with researchers to identify the questions they want to ask and designing the best approaches to explore them.
The projects will involve a range of people with different backgrounds who can bring a variety of knowledge and personal experiences to inform the research, whether this is improving our understanding of historical objects in museums or innovating the treatment of mental health issues.
By involving the public in research, UKRI will enable researchers to understand public priorities and to bring the lived experiences of more diverse groups of people into the research process.
It opens up the process of discovery and exploration to the wider public and enables the public and researchers to learn from each other.
Tom Saunders, Head of Public Engagement at UK Research and Innovation said: "In the last year, science, research and innovation have become something that people talk about every day, as we have seen how research directly affects our daily lives. UKRI is committed to breaking down the barriers between research and society and involving the public in research is one way we aim to do this. These exciting new projects will see researchers and communities collaborate on a range of issues that affect our societies, from plastic pollution to mental health, supporting people from outside of the research and innovation system to bring their unique experiences and perspectives into the research process, helping them to develop new skills and knowledge which they can use in their own lives."
The UKRI citizen science projects include:
Citizen scientists in Bristol and Bradford working with the Universities of the West of England and the University of Leeds to investigate the extent of the microplastic crisis. They will be investigating the presence of airborne microplastics in people's homes to get a better picture of where these particles come from.
The citizen science group The Parenting Science Gang and the University of York working alongside charities such as The Mental Health Foundation to empower young people with mental health problems to identify priorities for mental health research and design research that addresses any gaps.
Young people of refugee background working with Manchester Metropolitan University, Manchester Museum and Sheeba Arts to increase our understanding of ancient historical objects in the museum's collections and challenge exclusionary narratives about refugees in the UK.
People living with mental health problems working with the University of Nottingham and several other organisations across England including Kings College London to drive innovation in the treatment of mental health issues and the support available to enable people to live as well as possible.
People in Bristol, including African Caribbean communities, are working with academics from the University of Bristol, the city council and a wide range of cultural and community organisations, to address the history, and contemporary legacies, of transatlantic slavery on the city.
More information about the UKRI citizen science investment can be found on the UKRI website.