How to orchestrate your drug discovery journey
In this practical discussion, Dr Anis H Khimani looks at sustainable approaches to drug screening that leverage standardisation and validation as cornerstones in the selection of appropriate technology, methods, reagents and consumables and orchestrate these factors towards a holistic outcome
Drug discovery programs are major endeavours with two primary goals. First to identify and validate therapeutic target(s), and then to screen and discover small or large molecule leads for further evaluation in preclinical and clinical studies.
In screening campaigns -- spanning from initial assay development through higher throughput screening-- there are a number of considerations that are critical for achieving success. For example, choosing optimal assay platforms, robust reagents, reliable consumables and rigorous yet intuitive data analysis and data management options can all play an important role. Standardisation of design of experiments (DOEs) is also vital to deliver on the objectives of screening. Further, as part of DOE, factors that impact data and biological correlation are appropriate assay technologies, detection modalities and model systems, i.e., biochemical, cellular or in vivo.
Physiological relevance and assay technology
Simulating physiological conditions within in vitro assay systems is critical in driving assay technology success and achieving data quality to reflect the pharmacological relevance of drug candidates being screened. Phenotypic screening, although complex, provides physiological relevance and enables identification of disease relevant targets as well as subsequent screening of therapeutics.
Selection of an assay technology and reagents should depend on the mechanistic questions that need to be answered. For example, elucidation of the mechanism of action (MOA), protein-protein interactions (PPi), or specific modulation of a target. For some paradigms and end points, such as conserving the cost and management of biological systems, it would also be beneficial to perform biochemical assays prior to cell-based or physiologically relevant assays since the former are easier to conduct, from a reagents and assay set up perspective, and offer better consistency.
Selection of assay reagents
High quality and validated reagents are one of the foundations of a reproducible and reliable assay. In addition to the chemical entities and buffers used, the selection of biologics such as antibodies, enzymes, and recombinant proteins must follow validation comprising relevant binding and titration design of experiments. Such a pilot process enables a steady state and establishes standardisation of reagents, associated biologics, as well as reference standard analytes -- maximising signal-to-background and conserving consumption of reagents. Establishing such DOEs delivers a strong foundation for effective drug candidate screening campaigns.
Physiologically relevant model systems
For cell-based assays, selection of appropriate cellular or tissue models is important to establish the disease relevant system for data and biological relevance to be meaningful. One should weigh the advantages and disadvantages of using primary, in vivo derived cells versus recombinant cell lines, in light of the elucidation of endogenous versus recombinantly-expressed target proteins. Level of target protein(s) would additionally need to be established, as this can impact the sensitivity and quality of the assay. Cell culture reagents and conditions can also affect the end point of an assay, so it is important to use appropriate controls and standards to validate the assay.
Consumable selection and biological matrices
Choice of assay compatible consumables such as microplates, as well as liquid handling accessories, contribute to the performance, accuracy, and reproducibility of a screening assay. Microplates that minimise crosstalk and background signal as well as offer miniaturisation, ease of use with automation, and conserve reagents must be evaluated. See Table-1.
Where biological matrices (e.g. blood, plasma, saliva, tissue/cell lysates, etc.) need to be used to identify and evaluate biological markers, wash-based assays would facilitate elimination of assay interference from non-specific binding and signal absorbance within the complex matrix. To establish sample matrix compatibility, spike-and-recovery and linearity of the assay can be accomplished using appropriate diluents. In addition, consider protease inhibitors to protect extracellular targets.
Orchestrated design for improved performance
Validation of assay reagents and DOEs can improve sensitivity, dynamic range, specificity, and robustness. Orchestrated parameter design, with optimised reagents and consumables, contributes to a superior assay performance. The reproducibility and robustness of such an assay leads to a sustainable set of reagents and parameters for drug candidate screening. Robust design of experiments (DOEs) and optimisation of experimental parameters that drive quality of data, physiological relevance and pharmacological efficacy and safety, help drive best practices and are crucial criteria for a successful and cost-effective drug development.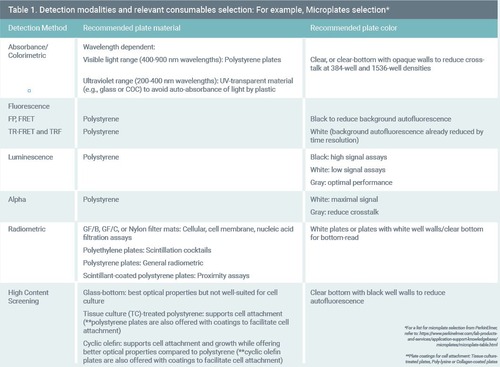 Author: Dr Anis H Khimani is Senior Strategy and Market Segment Leader, Life Sciences segment, for PerkinElmer perkinelmer.com