Don't Panic! You have not been infected with SARS-CoV-2: Understanding COVID vaccine side-effects
COVID-19 vaccines are not capable of infecting anyone with SARS-CoV-2. Although a fraction of people experience side effects after receiving their COVID-19 vaccinations, these effects do not mean you have COVID. So, if you happen to one of them, don't panic! Here, Professor Martin Michaelis and Dr Mark Wass of University of Kent's School of Biosciences explain why you should not be afraid to have your vaccination and what might be the true cause of side-effects.
'After receiving COVID-19 vaccinations more than one in ten individuals suffer from side effects similar to those of COVID-19. These including tenderness, warmth, pain, itching, or bruising at the injection site, tiredness, chills, joint pain/muscle ache, and nausea.
'Less than 10% also experience redness, swelling, or a lump at the injection site, fever, vomiting, diarrhoea, and other infectious disease symptoms such as fever, cough, sore throat, and/or a runny nose.
'Although this may feel like the real disease, it is actually the response of the immune system to the vaccine. None of the available COVID-19 vaccines contains SARS-CoV-2, the coronavirus that causes COVID-19. They use different strategies to present just parts of the virus to the immune system and they do not cause an infectious disease.
'The reason why these symptoms may feel similar to the disease the vaccine protects us from is that both the disease and the vaccine induce a similar immune response. This vaccine-induced immune response will then protect you from COVID-19 in the future.
'Many infectious disease symptoms are not caused by the pathogen but by our own immune response, which is why many symptoms are generic across many diseases. This is also why it is impossible to discriminate with certainty between infectious diseases without a test.
'Notably, vaccine side effects may also be caused by the "nocebo effect", a polarised alternative of the famous "placebo effect". Whilst the placebo effect is associated with clinical improvements seemingly caused by psychological effort from the patient, they can also induce negative responses, the "nocebo effect".
'Negative responses are known to have resulted in the discontinuation of therapies in up to 25% of patients in placebo arms of clinical trials. Sometimes, side effects are higher in the placebo group than in the group receiving the active treatment.
'Similar levels of negative responses are reported in the treatment and placebo arms of COVID-19 vaccine trials. So, for some vaccinated individuals the knowledge that they have been vaccinated may be sufficient to drive side effects.
'Ultimately, side effects associated with COVID-19 vaccinations are not a sign of the disease. COVID-19 vaccines are not capable of infecting anyone with SARS-CoV-2, the coronavirus causing COVID-19. Negative results are likely caused by the immune response to the vaccine, or the knowledge that we have been vaccinated acting as a "nocebo".'
Professor Martin Michaelis and Dr Mark Wass, School of Biosciences, both work for the University of Kent
This article was first published by the University of Kent
You can check out a full interview below: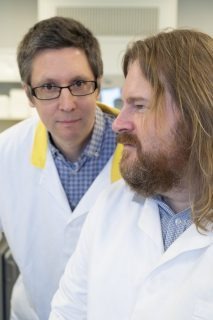 Professor Michaelis and Dr Wass run a joint computational/ wet laboratory. Dr Wass is a computational biologist with expertise in structural biology and big data analysis. Prof Michaelis' research is focused on the identification and investigation of drugs and their mechanisms of action, with a focus on cancer and viruses. With regard to viruses, Prof Michaelis and Dr Wass work on virus-host cell interactions and antiviral drug targets. In the cancer field, they investigate drug resistance in cancer. In collaboration with Professor Jindrich Cinatl (Goethe-University, Frankfurt am Main), they manage and develop the Resistant Cancer Cell Line (RCCL) Collection, a unique collection of 2,000 cancer cell lines with acquired resistance to anti-cancer drugs. They are also interested in meta-research that investigates research practices in the life sciences.