Resistance is rarely futile - reinvigorating the AMR ecosystem
Might we defeat our oldest enemy in fighting one of the newest? Peter Jackson looks at how lessons learned from the COVID-19 pandemic can support the development of new treatments for antimicrobial resistance and other infectious diseases
During a series of lectures at the Museum of London in 2018, Professor Chris Whitty described infectious diseases as our 'oldest enemy' – one that throughout time has remained a pivotal element in both medicine and morbidity.
Whitty outlined the threat and, given his appointment a year later as England's Chief Medical Officer, could well have imagined making speeches about the risks of infections crossing borders in our globalised world. Yet, COVID-19 has surely surpassed even his predictions of the challenges involved in tackling a pandemic that has given us all a harsh lesson in preparedness.
Across the AMR sector, there is a new generation of technologies that are promising to radically change our outlook...
Joined up drug discovery defeats infectious disease
As one of the most prominent faces of the UK response to the crisis, Whitty could at least point out that the rise of infectious diseases has been thwarted on many occasions before, when international drug discovery and healthcare systems function as a joined-up ecosystem.
It's estimated that smallpox resulted in approximately 300 million deaths during the 20th century, for instance, yet its spread has been controlled by a vaccine. Similarly, the first mass-scale antibiotic penicillin, created in 1928, may have saved up 200 million lives, with the figures continuing to grow year on year.
The roll out of the Pfizer-BioNTech vaccine, less than a year after the initial breakout of COVID-19 in Wuhan Province, reflects the power of science, academia and industry working together. As we contemplate the future, it is imperative that lessons are learned at pace to ensure we are better placed to tackle both pandemics and the spread of infectious diseases.
New technologies leverage indirect approaches
There is a historic perception of research into antimicrobial resistance (AMR) being focused on trying to create a new generation of small-molecule antibiotics. That is, of course, part of the story. But the exciting breakthroughs are really about bringing new technologies to bear. For example, stimulating the immune system to more effectively clear infections rather than attempting to directly destroy the bug with an antibiotic.
Across the AMR sector, in therapeutics, preventatives and diagnostics, there is a new generation of technologies that are promising to radically change our outlook. In addition to immune-infection approaches, we are also seeing the development of genetically engineered bacteriophage, precisely targeting specific pathogens that are able to resist conventional medicine.
Take the immune-infection approach with RESP-X, for example. This therapy will aim to treat Pseudomonas aeruginosa infections, a hard-to-treat pathogen that can be found in non-cystic fibrosis bronchiectasis and other respiratory conditions. This program is not about directly killing the bugs but rather switching off the microbe's virulence mechanism to reduce the inflammatory response in the lungs and allow the body's own immune system to be deployed to clear the infection.
An old enemy attracting new investment
Prior to COVID-19, AMR already represented one of the biggest health and economic threats to the world. The pandemic has only exacerbated those issues and made it more important that treatments are developed. The SARS-Cov2 virus weakens the immune system and damages lung function, making it easier for bacterial respiratory infections to take hold and as more data is analysed, it's highly likely to show that such infections contribute significantly to COVID-19 mortality.
The increasing awareness of life-threatening infections, combined with exciting new technologies, is also changing perceptions of infectious disease from a funding and investment perspective. We are seeing offers of new support for the biotech companies around the world working in this vital area.
Yet market reform remains critical
Yet there remains one critical element missing from the AMR ecosystem: effective market reform. In order to overcome the broken payment model that has held AMR treatments back for so long, urgent action is crucial to offer a long-term fix for investment and reimbursement for new AMR treatments.
As an organisation, we are determined to join our colleagues across the industry in helping to reinvigorate the AMR ecosystem. Having been founded in 2016 as The AMR Centre, with the goal of developing new treatments for drug-resistant bacterial infections, we evolved into Infex Therapeutics in the summer of 2020 and are using our drug development capability and expertise to target a wider range of World Health Organisation critical-priority viral and bacterial pathogens, including coronaviruses.
The fight against infections continues
At the height of the pandemic, and two years after his Gresham Lectures, Professor Whitty pointed out during a recent Downing Street press conference that a hundred years ago infectious diseases were the world's biggest cause of death, and that the fight against infections has been one of the great historic success stories for science.
While the path ahead of us with both COVID-19 and AMR can at times seem intimidating and strewn with obstacles, it's important to take heart from this key point Professor Whitty made: world-changing breakthroughs have been made before with access to only a fraction of the technology that is now available. With the right environment for collaboration, innovation and funding put in place, the research scientists working on the diseases we face today – and tomorrow - will come up with solutions that will save lives and protect our way of life.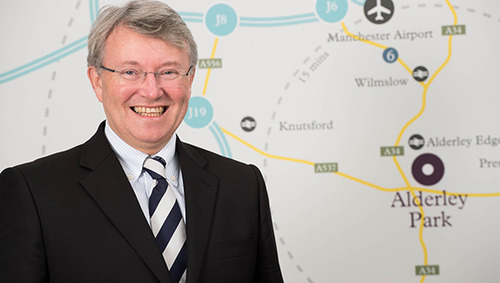 Author: Dr Peter Jackson is executive director at Infex Therapeutics, Alderley Park, a Bruntwood SciTech location