Excellent standards drive commercial demand in bioproduction
Protein biochemist, Dr Bernd Gerhartz, tells the story of how he and his team established a new strategy, development workflow and QC process to provide consistent, high-quality bioactive proteins to the cell culture market.
Prior to joining my current company, I had spent over two decades working on human proteins in the pharmaceutical industry and witnessed first-hand the important role that bioactive proteins, such as cytokines and growth factors, play in cell culture applications. Bioactive proteins are used across a wide range of cell culture discovery and basic research techniques, including in vivo and in vitro assay development, compound screening and structural studies. They are essential for the controlled production of regenerative medicines, and cell and gene therapy products, and are also vital for driving cell expansion, stimulation and differentiation in cell culture applications.

Figure: A robust manufacturing workflow is essential for producing bioactive proteins with batch-to-batch consistency.
Inconsistent cell cultures deliver inconsistent results
In my experience, when bioactive human proteins were purchased from commercial sources, they often did not perform consistently from batch to batch. The proteins had major quality issues including being incorrectly folded, leading to low or no activity, or were contaminated with high levels of endotoxins. This produced inconsistent results that were costly in terms of time and money, resulting in many pharmaceutical companies choosing to produce their own proteins in-house to ensure quality and reproducibility.
Leveraging skills to fill a gap in the market
When I joined the company, Abcam was already routinely producing high quality human recombinant protein antigens for use in its antibody production immunisation systems, as suitable proteins could not be sourced commercially. Having already had two decades of experience in this area, my colleagues and I decided to strategically leverage our skills and expertise in order to develop high quality human proteins for the commercial market.
Once the decision was made, we quickly established an experienced team of protein scientists and equipped a new facility with state-of the-art technology and a streamlined workflow, to produce these high-quality proteins at volumes suitable for research through to manufacturing (See Figure).
Overcoming the challenges of mammalian expression
There are many benefits to overcoming the challenges of mammalian expression…[ ]…Only mammalian systems can produce native-identical proteins which, due to their correct structure, are inherently more stable than their bacterial counterparts.
Looking to the future, one key area of focus for us has been to design and develop proteins that are expressed in human or other relevant mammalian cell lines. This is currently rare in commercial protein manufacture because optimisation is more difficult, and yield is often lower than that achieved with bacterial expression systems.
There are many benefits to overcoming the challenges of mammalian expression. Extracellular human-origin proteins made in mammalian systems are folded with the desired conformation and have the correct post-translational modifications including glycosylation, all of which are important for biological activity. Only mammalian systems can produce native-identical proteins which, due to their correct structure and post-translational modifications, are inherently more stable than their bacterial counterparts. Bacterial cells do not have the cellular machinery needed to correctly modify or fold extracellular human-origin proteins.
Adopting QbD and high validation standards
Adopting a Quality-by-Design (QbD) approach for manufacturing has also been a forward-thinking step; using animal-free components to enhance product consistency by removing the variability associated with animal-based ingredients, reducing the risk of transmitting adventitious agents. In addition, the mammalian expression system also enables ultra-low (<5 EU per mg) endotoxin levels as there are no bacteria in the system to contaminate samples. This helps ensure optimal bioactivity, and a safe and consistent product, that supports regulatory compliance.
The expressed protein has the same amino acid sequence as found in nature but has a small tag added, to facilitate affinity protein purification, which is then removed by enzymatic cleavage. The sample is then further purified to produce the end product.
Incorporating comprehensive characterisation techniques is essential to ensuring a robust validation process. For example, mass spectrometry (MS) can be used to confirm protein identity and integrity, then reverse phase HPLC used to check its purity and to measure concentration. These techniques can highlight erroneous post-translational modifications or accidental cleavage with stray proteases.
By adopting validation processes of a standard seldom used in commercial protein production for in-house pharmaceutical protein production, we are able to support an accurate quality control process that goes beyond the simple SDS-PAGE or UV absorbance at 280 nm (A280) measurement often relied on as an approximation.
Ensuring batch-to-batch consistency is key
Over time, as cell culture is scaled from research to clinical manufacturing, it is typical that the growth factors and cytokines used to enable cell growth, differentiation and expansion come from different batches. Since these bioactive proteins are made in biological systems, different batches can be disposed to inconsistencies in key quality attributes.
Each new batch of a bioactive protein should pass stringent quality control specification tests that involve a wide range of validation to ensure consistent integrity, purity, concentration, mono-dispersity and correct folding, as well as determination of biological activity in a well-defined bioassay. In addition, new batches should be verified against data from a master lot to control for assay variability.
Excellence draws demand
The excellence in protein design, manufacturing and validation that my team and I were able to establish has resulted in exciting new projects with partners around the world. We now work across the industry to design, manufacture and validate proteins that meet desired specifications, are fit-for-purpose, and can be supplied consistently over time.
Providing better-quality, validated proteins is a gamechanger for the industry and I'm proud to be playing an important role in that shift.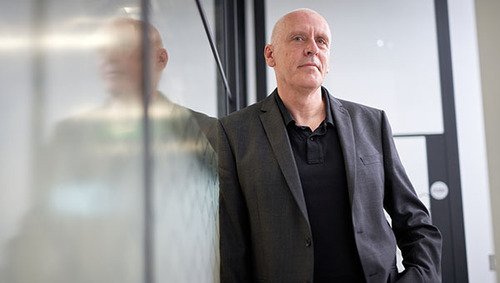 Author: Dr Bernd Gerhartz is VP Technology Development for Abcam; abcam.com