Could you be the new face of space?
The European Space Agency is opening its 'Gateway to Space' and inviting you to explore the potential for a new career, whether as a researcher, a student graduate, a professional or even... oh yes... an astronaut! Seeking to broaden the agency's diversity, the ESA is launching a fully inclusive recruitment drive that encourages women and minorities, alongside a feasibility project for parastronauts to assess the conditions for including astronauts with disabilities to work in space. And, if you have a relevant Masters degree and three years professional experience you could be in with a chance!
Image: ESA astronaut class of 2009 Credit: ESA
For the first time in 11 years, ESA is looking for new astronauts. These recruits will work alongside ESA's existing astronauts as Europe enters a new era of space exploration. The agency is also seeking a broad range of on-the-ground skills covering professional, Young Graduate Trainee (YGT) and research positions.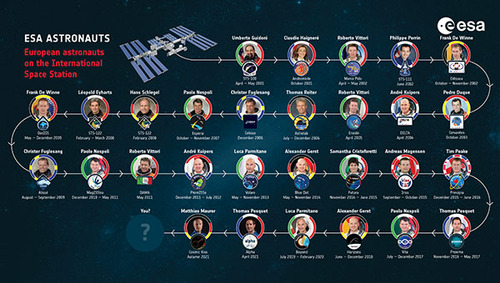 The opportunity to become an ESA astronaut is rare and highly competitive. ESA last sought applicants for astronaut positions in 2008 and has held only three recruitment rounds, including its first in 1978.
The starting point for this is 31 March 2021, when the vacancies for new astronauts open. ESA is strongly encouraging women to apply, because the agency is "seeking to expand gender diversity in its ranks". Additionally, individual(s) who are "psychologically, cognitively, technically and professionally qualified to become astronauts, but who have a physical disability that would normally prevent them from being selected due to the restrictions of current space hardware are encouraged to apply" according to the recruitment pages on the agency website.
Although the ESA is not in the position today to guarantee a flight for the selected parastronaut individual(s), it is already analysing measures that must be taken to clear the path and include the person(s) to be selected to fly, not as simple tourists, but as fully-fledged crew members of a space mission and hopes to support the innovation that will be required to make this happen.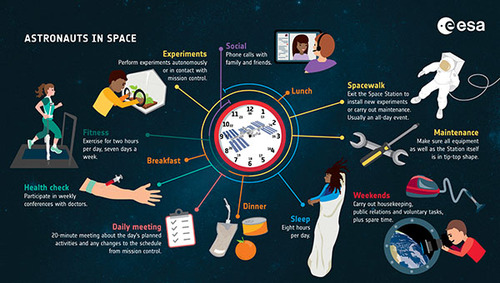 While recruitment is inclusive around sexual orientation, physical or mental challenges, ethnicity or educational, religious or social background, the astronaut positions will be highly competitive and the ESA website notes that prospective applicants are advised to recognise the list of minimum requirements for consideration. These include being a citizen of an ESA member state or associate state, holding the minimum of a Master's degree in natural sciences, medicine, engineering, mathematics, or computer sciences or holding a degree as an experimental test pilot and/or test engineer from an official experimental test pilot school with a class 2 medical certificate issued by an aviation medical examiner that shows they are medically qualified for a private pilot licence (PPL). Candidates must have at least three years of relevant professional experience after graduation and be fluent in English. Good knowledge of another foreign language and any other additional language is a plus. You will also need to be strongly motivated, flexible, calm under pressure and willing to participate in life science experiments.
Europe as the heart of space exploration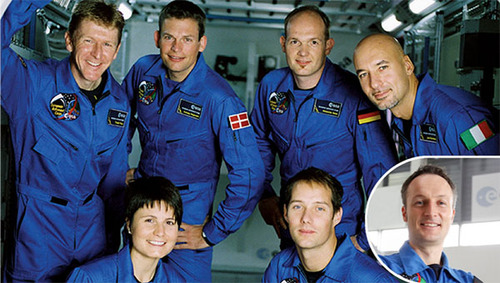 Image: ESA astronaut class of 2009 Credit: ESA
ESA Director General Jan Wörner says, "Thanks to a strong mandate from ESA Member States at Space19+, our Ministerial Council in 2019, Europe is taking its place at the heart of space exploration. To go farther than we ever have before, we need to look wider than we ever have before. This recruitment process is the first step and I look forward to watching the agency develop across all areas of space exploration and innovation, with our international partners, in the years to come."
"Representing all parts of our society is a concern that we take very seriously," says David Parker, ESA Director of Human and Robotic Exploration. "Diversity at ESA should not only address the origin, age, background or gender of our astronauts, but also perhaps physical disabilities. To make this dream a reality, alongside the astronaut recruitment I am launching the Parastronaut Feasibility Project – an innovation whose time has come."
Start your journey to becoming an astronaut here:
A new web site for potential applicants, https://www.esa.int/YourWayToSpace, is now online and gives an insight into the role of an ESA astronaut, the selection requirements, astronaut training and what ESA does.
The vacancy runs from 31 March to 28 May 2021 and ESA will only consider applications submitted to the ESA Career website within those eight weeks. After that, the six-stage selection process will start, which is expected to be completed in October 2022. The recruitment process is similar for every position, whether you are applying as a younger or more experienced professional.
"Becoming an astronaut has been a dream come true. It brings together many of my passions: science and technology, complex machines, demanding operational environments, international teams, physical fitness, public outreach. And of course, occasionally you get to ride a rocket to work!" says Samantha Cristoforetti, current ESA astronaut, on the possibilities that lie ahead.