Laboratory Science apprenticeships help build the future
Reach Separations, a specialist in chromatography for the analysis and purification of small molecules, has highlighted the role the Laboratory Scientist degree apprenticeship is playing in shape its future workforce. The Nottingham-based company was founded in 2011 due to the need for quality separation science services in the UK, and what started out as a small venture in a tiny laboratory staffed by a single chemist has since grown into Europe's leading provider of both chiral analysis and purification services.
Apprentices have a significant role supporting Separations Scientists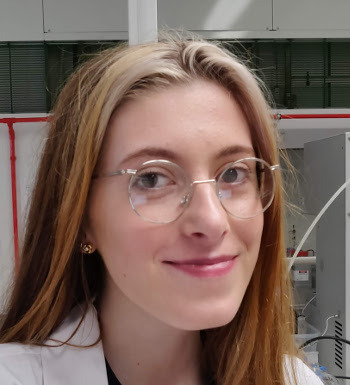 Reach now occupies multiple laboratories at the city's premier science park – BioCity – and its apprentices on the five-and-half-year programme have a significant role in supporting the organisation's Separations Scientists, whilst concurrently studying for a BSc (Hons) Chemistry with Industry at the University of Nottingham. The first apprentice, Ellie Ancliffe, started the Laboratory Scientist (Chemistry) level 6 degree apprenticeship in summer 2020, having initially joined the company at the age of 16, and upon graduation will become a fully-fledged Separations Scientist at the company. Reach is also currently recruiting for a second degree apprenticeship role as it seeks to build on the "self-evident success" of the programme.
Image: Ellie Ancliffe - the first Laboratory Science (Chemistry) level 6 degree apprentice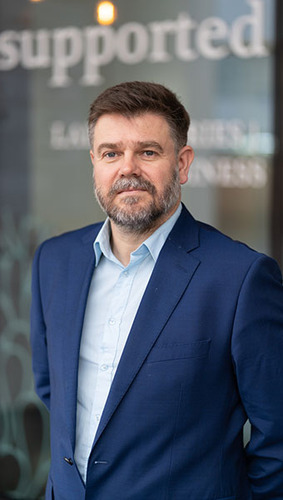 Technical Director Phil Abbott said: "We have a long-standing relationship with the University of Nottingham, and have graduates from the University within our team, but we were attracted by the degree apprenticeship route because with the purification process we need skilled scientists to do the work. 'Mouldability' is a key term we use, and this is the perfect way for employees to effectively learn the ropes on the job whilst studying a formal qualification, and accelerate their own progression within the company."
Image: Phil Abbott, Technical Director, Reach Separations
Apprentices study modules covering the breadth of chemistry
Employer apprentices undertake an initial assessment to determine their existing level of skills and knowledge and the University then builds a personal plan for their learning. Apprentices study modules covering the breadth of chemistry in core theory, while also developing practical skills through the teaching laboratory component that is a highlight of on-campus block release weeks. Professional and business skills runs throughout.
"By the time Ellie, and anyone else on the degree apprenticeship programme, graduates they will already have done the job for five years giving them in-depth knowledge of the company and a real edge," Phil explained. "As a smaller business with 15 employees right now, I think we are definitely standing out by taking on degree apprentices because in my experience we are in the minority. I would definitely recommend this route to other employers because the outcome is you get a highly specialised individual."
Degree apprenticeships are a cost-effective approach to workforce development
For businesses, large and small, degree apprenticeships are a cost-effective approach to workforce development, and those with a wage bill over £3 million can fund the programme from their apprenticeship levy. Firms with a wage bill under £3 million can still access this programme for their employees, and may be eligible for 95% government co-investment. "The financial side of the degree apprenticeships model is very attractive," Phil said. "We are hugely committed to training and development, and we offer lots of in-house and external opportunities for our team. This is helping us to provide pharma and drug discovery companies with a Europe-leading approach to supporting the purification process, bringing chemists expertise, convenience and speed of response."
Laboratory Scientist degree apprentices provide much needed baseline resources in global science industries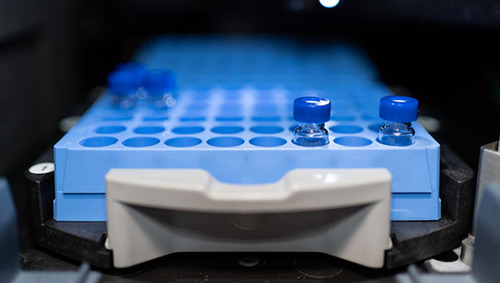 At Johnson Matthey, a global science and chemicals' company and a leader in sustainable technologies, laboratory science apprentices work within the Research and Development departments as Research Assistants and they join established research teams working on business priority projects. The majority of their work is in Johnson Mattheylaboratories, carrying out practical work required to develop the company's new products and processes.
"Our Laboratory Scientist degree apprentices provide much needed baseline resources for our research departments," said Principle Researcher Adel Neal. "They provide a fluid resource for our business that can be tapped into when and where required, allowing for easy movement of people to align with business demand, project prioritisation and/or backfilling in preparation for retirement, to cover illness or maternity leave. The degree apprenticeships scheme allows Johnson Matthey to create a sustainable workforce with the right skill sets for the future of our business, bringing many benefits."
Adel explained how the apprentices complete critical base level laboratory work, allowing more experienced employees to look at more complex tasks or developmental work, which helps to grow the business and provide faster project completions. "Recruitment of apprentices also develops existing staff, giving them an entry point to line management skills and experience," she explained. "Apprentices offer a fresh approach and views to our research teams where their enthusiasm and motivation is infectious to all around them."
The degree apprenticeship scheme allows the apprentices to gain hands-on real business work experience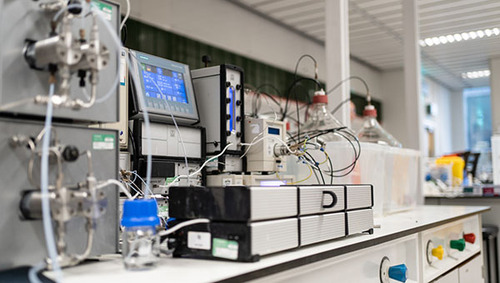 When asked what she would say to an employer considering training their workforce via the Laboratory Scientist (Chemistry) degree apprenticeship, Adel's answer was simple: "do it" She said: "The degree apprenticeship scheme allows the apprentices to gain hands-on real business work experience within research to complement their studies at the University. They get to work on business priority projects and use world-class facilities as well as being trained by experienced scientists. Johnson Matthey support the apprentices in their studies towards a degree by providing them with resources and experienced members of staff to help them."
Adel added: "Our apprentices will be our scientists of Johnson Matthey's future. They feed the resource pipeline for our technical workforce, enabling the company to recruit high-calibre loyal scientists who have developed their careers within our culture and values."
The theme for this year's National Apprenticeship Week, "Build the Future", encourages everyone to consider how apprenticeships can help individuals to develop the skills and knowledge required for a rewarding career, and employers to build a workforce with future-ready skills. As well as the Laboratory Scientist (Chemistry) degree apprenticeship, the University of Nottingham also offers a Bioinformatics Scientist (MRes) degree apprenticeship https://www.nottingham.ac.uk/vet/study-with-us/degree-apprenticeships/level-7-bioinformatics-scientist-degree-apprenticeship.aspx