Love life, love remote working: applying biophilic principles to your home office
Derived in 1964 by the social psychologist Erich Fromm, 'biophilia' means to love life. Here, architect Robert Hopkins, follows up on his article in our January issue that looks at biophilic building design by offering tips on how to bring a touch of biophilic love to your remote workspace.
There are so many ways you can encourage biophilic design in your home or remote office. But first, you must think very clearly to define those things that make you happy so you can surround yourself with the things that inspire you most, as an individual. It is your space afterall!
1. Turn your desk away from the wall
The way you position your desk is important. Traditionally, we get our desk and push it up against the wall, leaving anyone who sits at it staring at a blank wall all day if you're not more careful. Instead, by turning that desk through 90 degrees, you can give yourself a view. It allows you to see other things in your workspace and appreciate the space you're in. This also encourages you to turn your eyes away from your computer screen, rest your eyes, look into the distance and exercise your pupils.
2. Consider your proximity to a window
Again, shift your desk if you can to give yourself natural light and give yourself a view. An interesting view and inspiring view.
3. Consider ventilation carefully
Make sure that you think closely about ventilation. Buy an air quality monitor. I have an air quality monitor in my home office (there only cost a few pounds now on the internet) and they're really great. They tell you exactly how much CO2 there is in the in the atmosphere at any one time and you can link those up to dehumidifiers and all sorts of things like that.
4. Think about materials
Think carefully about what materials you've got in in in your room. Are they natural? Again, we use Desso Airmaster carpets in The Spine building and they help to reduce the amount of dust that there is in an atmosphere. So, if you if you have a carpet in your room, think closely about the type of carpet you have.
5. Focus on colours
Think about colours as well, colours that make you happy, colours that make you relaxed. There's lots of research on colour psychology but using your own inspiration around that should be really helpful.
I think, more than anything, people are just much more aware of their own wellbeing within their home space now. Whereas a home office might have been an occasional workspace for doing the odd thing in the evenings or weekends, these are spaces that are being used for much more prolonged periods of time now. So why not apply biophilic research? take a look at the 14 patterns of biophilic design by Terrapin Bright Green [terrapinbrightgreen.com] and just use a few of those ideas and use them really, really nicely and you'll get a great home office or working environment.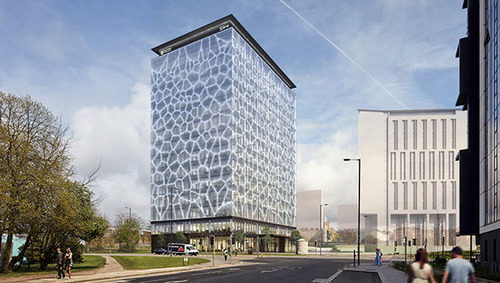 Image: The Spine Building is the new HQ for the Royal College of Physicians in Liverpool. Biophilic design is being used both inside and out. The building's entire design concept is based on the narrative of the human body, the distinctive façade was created using a mathermatical Voronoi pattern to represent skin.
If you are interested in reading more about biophilic design, please see our cover feature in the January 2021 issue.